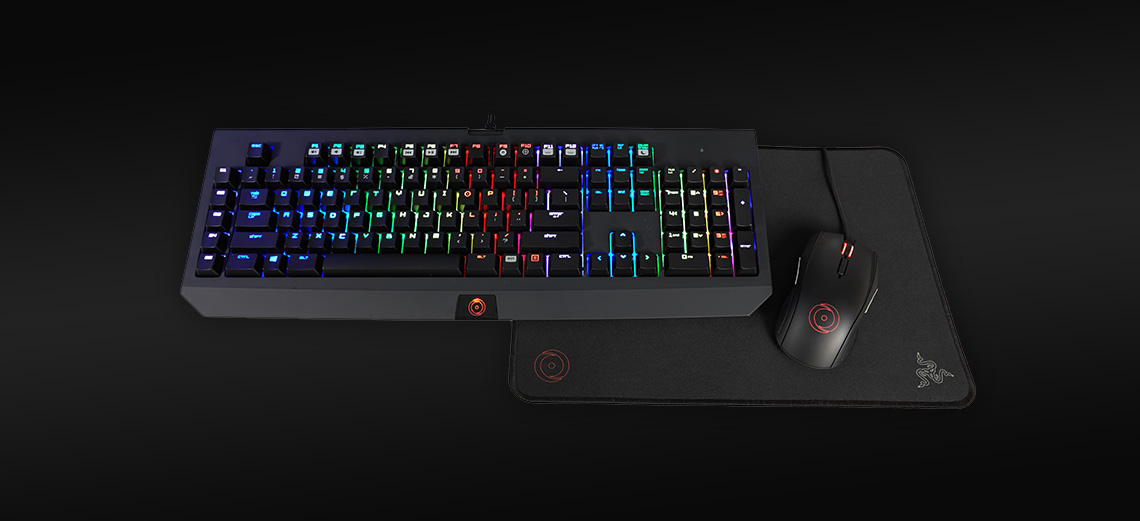 Enhance Your Gaming with the ORIGIN PC Ultimate Peripherals Bundle
October 13, 2015 | By Anthony
When you're obliterating opponents in the latest first person shooter or exploring detailed worlds like Gotham City in Batman: Arkham Knight, the peripherals that accompany our high end custom computers are just as important as the system you're playing them on.
The ORIGIN PC Ultimate Peripherals Bundle is one of the latest arrivals in our Gearshop with several accessories to enhance your gaming experience.  The ORIGIN PC Edition BlackWidow Chroma Keyboard features the perfect fusion of form and function, featuring RGB backlit tactile feedback keys and a reduced actuation distance, critical when you're playing a deathmatch against skilled opponents.  The keyboard can be customized with unlimited macros on the fly and with the ability to switch between ten different profiles, you can spend more time enjoying your games and applications instead of fiddling with settings.
Along with the Chroma Keyboard is the ORIGIN PC Edition Taipan Mouse.  Utilizing the all-new 8200dpi 4G Dual Sensor System that combines an optical and laser sensor that works flawlessly and rapidly on any surface, the mouse is just as fast as your reflexes, giving you that important gaming edge when the situation gets intense.  The mouse is designed to accommodate various grip styles and users who are left or right handed and it is included alongside the ORIGIN PC Edition Goliathus Medium Speed Mouse Mat.
The ORIGIN PC Ultimate Peripherals Bundle is only one of many useful peripherals sold on our Gearshop.  Visit www.originpc.com to learn more about what accessories are available or to buy one of our gaming desktops and laptop computers.  We offer 24/7 customer support and worldwide shipping options.