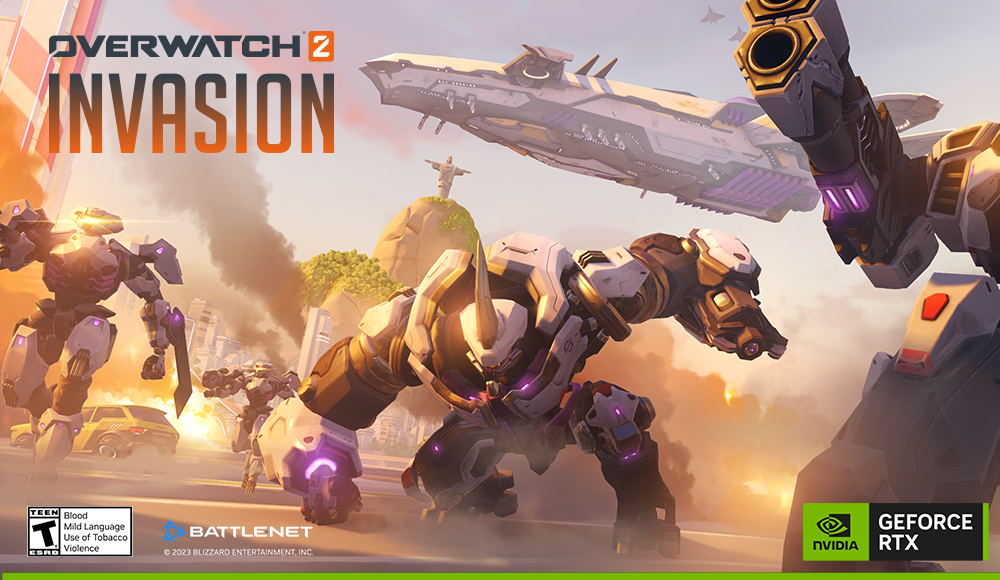 Upgrade to a GeForce RTX 40 Series ORIGIN PC and receive the Overwatch 2 Invasion Ultimate bundle
August 10, 2023 | By Anthony
With the Invasion Ultimate Bundle, Overwatch 2 fans can enjoy access to story missions, new skins, and more with a high-performance ORIGIN PC. For a limited time, receive the Overwatch 2 Invasion Ultimate bundle when you customize an ORIGIN PC with select NVIDIA GeForce RTX™  GPUs. Ready for a performance upgrade? ORIGIN PC systems provide reliable and powerful performance to offer a fully-immersive and seamlessly smooth gaming experience.
Desktops equipped with a GeForce RTX 4090, 4080, 4070 Ti, 4070, 4060 Ti, or 4060 GPU as well as laptops equipped with an 4090, 4080, 4070, or 4060 are all eligible for this special promotion. Customize a gaming desktop like a GENESIS for the ultimate gaming performance. Pick your loadout and choose from a selection of premium hardware like up to an Intel Core i9-13900KS or an AMD Ryzen 9 7950X3D processor, CORSAIR VENGEANCE DDR5 memory, and more. HydroX liquid cooling creates the optimal environment for premium hardware to run at peak performance, boosts system longevity, and even reduces noise levels.
For a portable gaming experience, browse a lineup of thin, light, and powerful gaming laptops. Choose from a variety of sizes including 14" and 17" inch displays. The new EON17-X is powered by an Intel Core i9-13900HX processor and up to an NVIDIA GeForce RTX 4090 GPU. Especially in shooters, every moment matters and a 240Hz refresh rate alongside NVIDIA Reflex offer a competitive advantage by supporting faster reaction times. Only 7.25 lbs light and 0.98 inches thin, the EON17-X creates a 4k gaming experience that can go anywhere.
Every ORIGIN PC is also backed by lifetime 24/7 US-based support – learn more about ORIGIN PC and their systems at originpc.com.