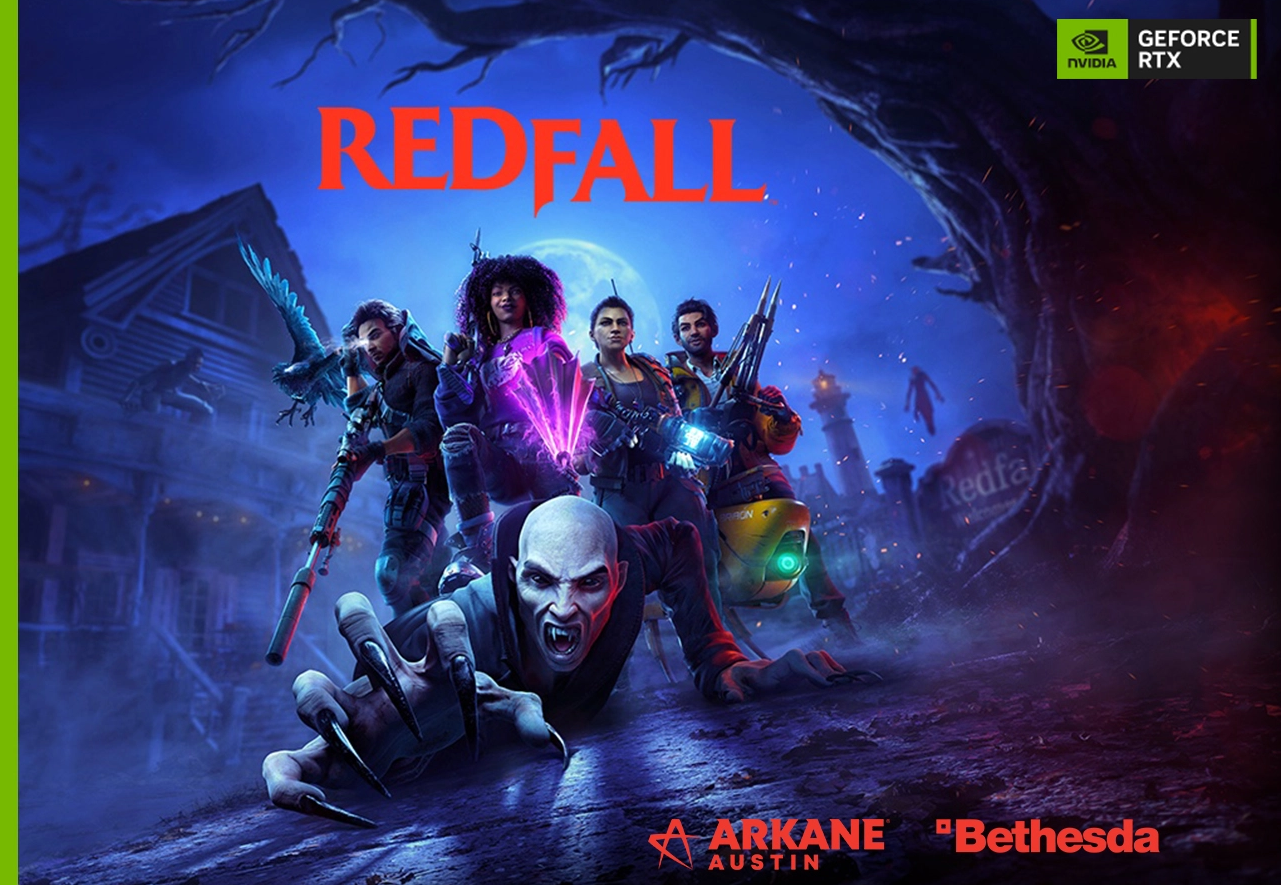 Get Redfall Bite Back Edition with select GeForce RTX 40 Series GPUs
March 16, 2023 | By Anthony
We just started a new promotion, so here's to another reason to customize your ORIGIN PC now. Gaming Desktops with a GeForce RTX 4090, 4080, or 4070 Ti desktop are eligible to also receive Redfall Bite Back Edition as a bonus. You can also get one of our latest gaming laptops or workstation laptops with an RTX 4090 Laptop GPU or 4080 Laptop GPU.
Uncover the truth and take back Redfall with the ultimate in ray tracing and AI powered by GeForce RTX 40 Series. Venture into the darkness and overcome the vampire legion with AI-powered NVIDIA DLSS 3 for maximum performance, incredibly detailed ray tracing and the best responsiveness with NVIDIA Reflex. Unravel the mystery to the vampire apocalypse with RTX On.
Bring home the power of the next generation and upgrade to an NVIDIA GeForce RTX 40-Series GPU. You're getting the best performance available to date and also preparing your system for even more graphics intensive games in the future. You can also equip a desktop with the latest 13th Gen Intel Core Processors or AMD Ryzen 7000 Series. Of course, there's also premium hardware like CORSAIR Vengeance DDR5 memory you can throw in to create the ultimate gaming system for yourself, a friend, or a loved one.
On the laptop side, get a laptop powered by a flagship NVIDIA GeForce RTX 4090 or 4080 GPU. The EON17-X and NS-17 are the strongest laptops we've ever created. Bring the next generation of graphics performance with you anywhere. Whether you're a gamer who wants to be able to bring their favorite titles anywhere, or a professional that's constantly on the move, the new 17″ inch laptops offer the most powerful portable performance available to date.
Make sure to also check out the other promotions we're offering this month! On top of getting Redfall, you can also take advantage of additional discounts for your desktop. Build your desktop during March, and you'll get $250 off plus another $100 if you decide to bundle it with a monitor purchase. You'll also get free shipping, adding on even more to the savings.
Learn more about our award-winning systems over at originpc.com.