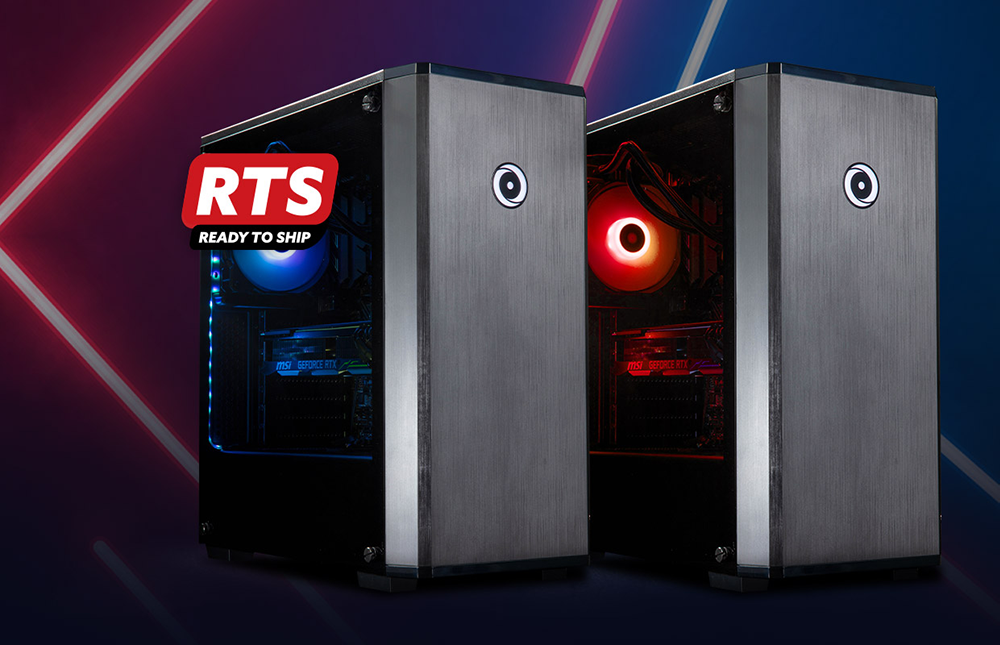 All-New Ready To Ship Desktops Available Now!
May 4, 2020 | By Anthony
We've expanded our Ready To Ship lineup with the return of gaming desktops that ship out in 1 to 3 days! You have the choice of a NEURON gaming desktop powered by an AMD Ryzen 9 3900, a NEURON with an Intel Core i7-9700K processor, or for the first time, a CORSAIR Crystal Series 280X with an Intel Core i7-9700K. These desktops are available in limited quantities were built by professional PC builders and you can find the PCs on our Ready To Ship landing page to order one today!
The Ready To Ship desktops are powerful enough to run the latest games with real-time ray tracing, as all the Ready To Ship desktops feature an NVIDIA GeForce RTX graphics card. The combination of the powerful CPU of your choice with the GeForce RTX graphics card makes the Ready To Ship desktops one of the fastest methods of playing games on a high-performance PC.
The Ready To Ship NEURON desktops come equipped with a 32GB CORSAIR Vengeance RAM kit at 3000MHz so you'll never have to worry about slowdowns and enjoy speedy performance. The Ready To Ship CORSAIR 280X desktop features a 16GB CORSAIR Vengeance RAM kit at 3000MHz, perfect for intense gaming and casual PC use.
Speaking of speed, each Ready To ship desktop includes a PCIe NVMe M.2 SSD for the OS drive which will make boot-up and loading times faster. Storage options vary between the Ready To Ship NEURON and CORSAIR 280X desktops but both offer plenty of space to store your favorite games.
If you would like more information on a gaming PC or other products such as the best gaming laptop, call 1-877-674-4460 to speak with a sales representative. We offer 24/7 customer support and worldwide shipping options. Stay up to date with the latest news by checking us out and following us on Facebook and Twitter.