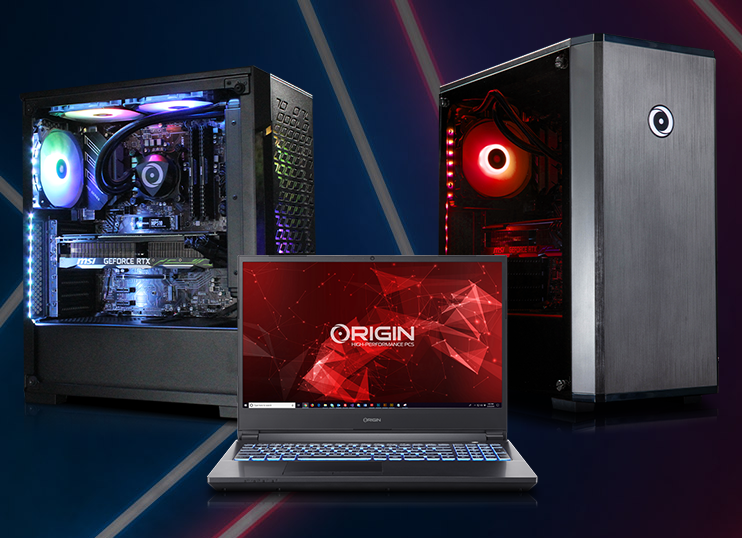 New Ready To Ship Systems Now Available!
October 6, 2020 | By Anthony
The ORIGIN PC team expanded the Ready To Ship system lineup to include new systems ready to take on your favorite games or applications. Powered by GeForce RTX 20 Series graphics, these new systems are powerful enough to run the latest games and ship out within 1 to 3 days!
Leading the Ready To Ship lineup is a NEURON desktop powered by an Intel Core i9-9900K CPU and an NVIDIA GeForce RTX 2070 SUPER graphics card. It's housed in the CORSAIR iCUE 220T RGB case, so you can showcase your system internals with iCUE RGB lighting.
Also available is a NEURON desktop powered by an AMD Ryzen 7 3700X and an NVIDIA GeForce RTX 2080 Ti graphics card. The case for this Ready To Ship NEURON is the CORSAIR 175R with iCUE RGB fans which can be easily customized using iCUE software.
Fans of gaming laptops should check out the Ready To Ship EON15-X AMD laptop powered by an AMD Ryzen 9 3900 desktop processor and an NVIDIA GeForce RTX 2070 graphics card. Making a splash earlier this year, the EON15-X AMD laptop offers incredible multi-tasking performance making it possible to run multiple applications at the same time.
You can see our Ready To Ship lineup at our special landing page!
If you would like more information on a gaming PC or other products such as the best gaming laptop or best gaming desktop, call 1-877-674-4460 to speak with a sales representative. We offer 24/7 customer support and worldwide shipping options. Stay up to date with the latest news by checking us out and following us on Facebook and Twitter.