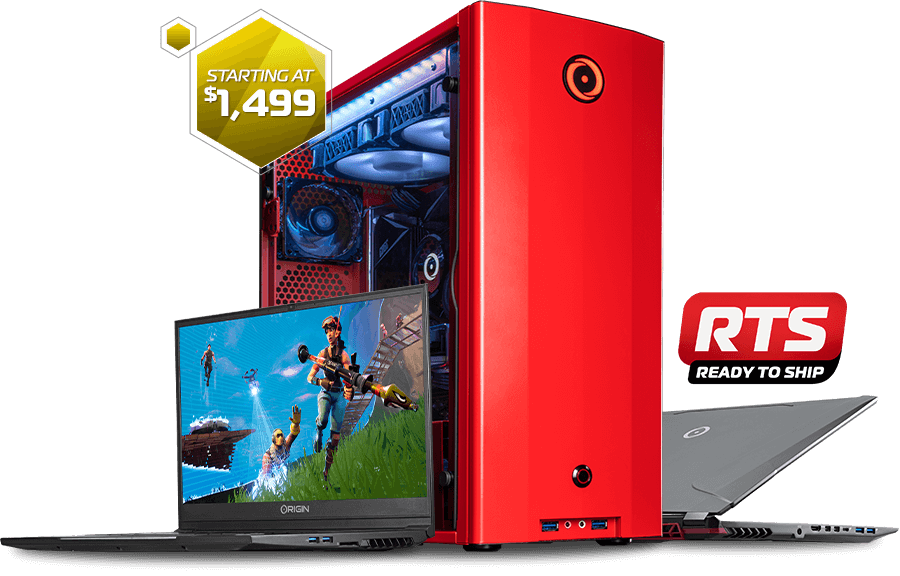 Ready. Set. Game!
ORIGIN PC RTS Systems Now Shipping Within 1-2 Business Days
*
Shop Now
At ORIGIN PC we strive to build and ship the best high-performance custom PCs for gaming and professional tasks. To get that experience to you even faster, we're introducing all-new Ready-to-Ship(RTS) systems in extremely limited quantities now featuring a NEURON desktop starting at $1499, the EON15-S laptop, and the EVO17-S laptop!
Because each system has already been tested extensively, these systems can ship out within 1-2 business days from our facility! The RTS NEURON desktop is powered by an AMD Ryzen 5 2600 CPU and an NVIDIA GeForce RTX 2060 GPU so you can get high-performance to your door faster. Two RTS EON15-S laptops are also available: an EON15-S powered by an NVIDIA GeForce GTX 1060 or an EON15-S powered by a GTX 1050 Ti. Different variations of the RTS EVO17-S powered by an NVIDIA GeForce GTX 1070 with Max-Q design are available: an EVO17-S with an Intel Core i7-8750H CPU and your choice of a 1080p 144Hz screen or a 4K screen, or an EVO17-S with an Intel Core i9-8950HK CPU and a 4K screen.
Get in the game faster with an ORIGIN PC RTS system.