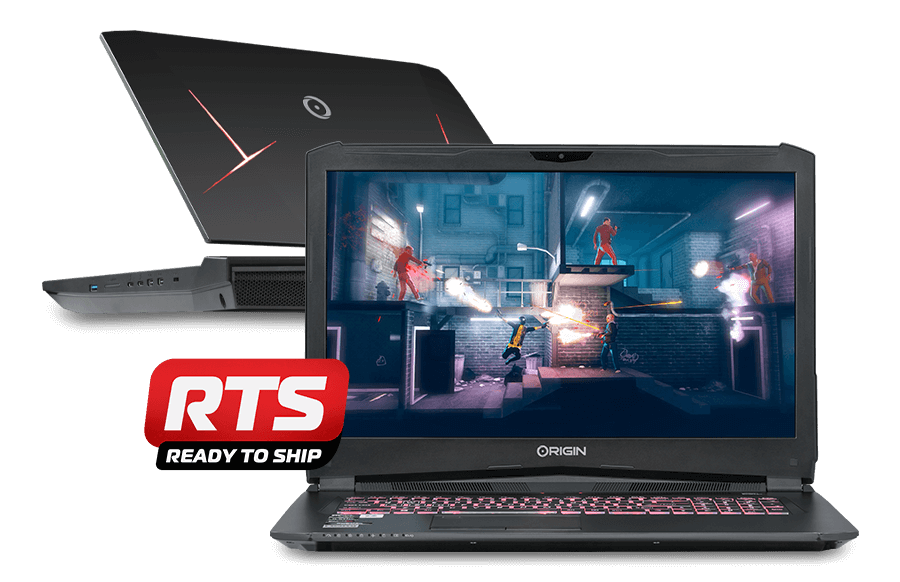 Ready. Set. Game!
ORIGIN PC RTS Systems Now Shipping Within 1-2 Business Days
*
Shop Now
At ORIGIN PC we strive to build and ship the best high-performance custom PCs for gaming and professional tasks. To get that experience to you even faster, we're introducing all-new Ready-to-Ship (RTS) systems in extremely limited quantities now featuring the EVO17-S laptop and EON17-SLX laptop! Because each system has already been tested extensively, these systems can ship out within 1-2 business days from our facility!
Different variations of the RTS EVO17-S powered by an NVIDIA GeForce GTX 1070 with Max-Q design are available: an EVO17-S with an Intel Core i7-8750H CPU and your choice of a 1080p 144Hz screen or a 4K screen, or an EVO17-S with an Intel Core i9-8950HK CPU and a 4K screen.
For desktop-like performance in a laptop, the RTS EON17-SLX is available with either two NVIDIA GeForce GTX 1080 GPUs or two GeForce GTX 1070 GPUs. Every RTS EON17-SLX comes with an Intel Core i7-7700K desktop processor and 4K display, giving it an edge over other gaming laptops.
No matter which system you choose, you can rest assured your RTS system of choice has been tested from top to bottom and is fully backed by 24/7 lifetime US-based support!
Get in the game faster with an ORIGIN PC RTS system.