PREBUILT GAMING DESKTOPS
NEURON RTS
Mid Tower
Ready-To-Ship (RTS)
Starting at: $2,393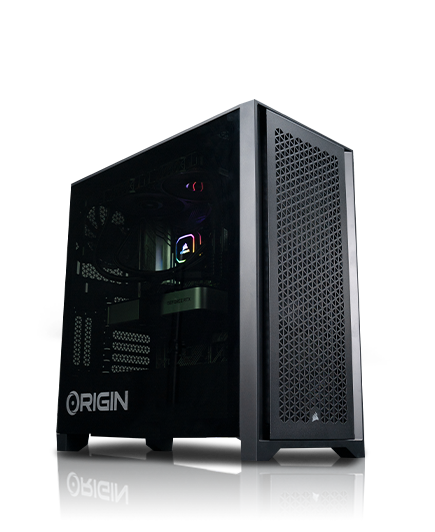 Corsair 4000D Airflow
Intel Core i7 10700K 8-Core 3.6GHz (4.9GHz TurboBoost)
NVIDIA 8GB GeForce RTX 3060 Ti
16GB CORSAIR VENGEANCE 3200MHz
480GB Force MP510 NVMe PCIe M.2 SSD (OS Drive)
2TB ORIGIN PC Approved Hard Drive
Z590 Motherboard
CORSAIR H100i PRO XT RGB
CORSAIR 750 RM SERIES 80 PLUS GOLD
MS Windows 10 Home
CHRONOS RTS
Small Form Factor
Ready-To-Ship (RTS)
Starting at: $2,732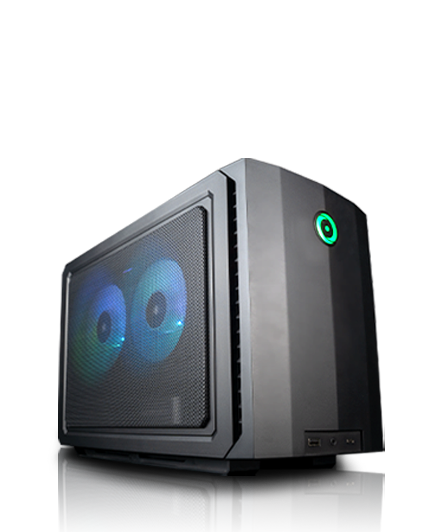 ORIGIN Chronos with Mesh
Intel Core i7 10700K 8-Core 3.6GHz (4.9GHz TurboBoost)
NVIDIA 8GB GeForce RTX 3070
16GB CORSAIR VENGEANCE 3200MHz
480GB Force MP510 NVMe PCIe M.2 SSD (OS Drive)
1TB Samsung 870 QVO
Z590 ITX Motherboard
CORSAIR H100i PRO XT RGB
750 Watt CORSAIR SFX Series
MS Windows 10 Home
About Gaming Desktops
ORIGIN PC gaming desktops are in a league of their own, representing the most cutting-edge computer engineering in the industry. Geared towards offering the finest gaming experience, our PCs feature state-of-the-art and reliable PC parts designed to give you an optimal and immersive gaming experience, even while gaming in VR, high refresh rate monitors such as 144Hz, 240Hz, or 300Hz, plus high resolution monitors at 4K or 8K resolutions.
ORIGIN PC gaming desktops are a perfect fusion of creativity, technical expertise, and results-driven innovation. They are hand-built, rigorously tested, and serviced by a world-class team of gamers, industry veterans, and top system technicians. From the most powerful overclocked processors on the market, to graphic cards that push the envelope of visual capabilities with ray-tracing technology, we build the most powerful rigs on the market.
Compared to your typical OEM build, our custom desktops excel in all areas. Only ORIGIN PC offers services such as free lifetime U.S.-based technical support available 24/7, free lifetime labor, all name-brand premium components, over 10,000 configuration options, and much more. You get the best technology backed by the best service and support.
It's little wonder that our gaming PCs have garnered tremendous praise from across the industry, including awards and recognitions from the likes of CNET, PC Gamer, IGN, Computer Shopper, Gizmodo, and other top reviewers. But most importantly, we've received overwhelmingly positive testimonials by our valuable customers, ranging from hardcore gamers to designers and professionals.
About Workstation Desktops
Computer animation professionals rendering lifelike characters, game developers creating rich, elaborately detailed worlds, videographers shooting and editing ultra HD 4K video, these are a few examples of the many professionals that require the power of workstation custom desktops to deliver the performance where it counts.
At ORIGIN PC, we know these professionals seek robust solutions that are as customizable as they are powerful. Our options include full tower, mid tower, small form factor, and rackmount configurations, all of which can be configured to utilize the latest industry-leading components including Intel Xeon processors and NVIDIA's Quadro Graphics Technology. These custom PCs are not only fully customizable, they provide a tremendous amount of flexibility, allowing customers to choose options such as single or dual GPU, premium case options, and even cosmetic options such as different color schemes.
Whether you need a custom workstation desktop or an HPC, our PCs are ready to deliver the power and performance necessary to help you get the project done efficiently and professionally. With our free lifetime U.S.-based 24/7 technical support, you can rest assured we're always ready to answer your question so you can focus on being productive.