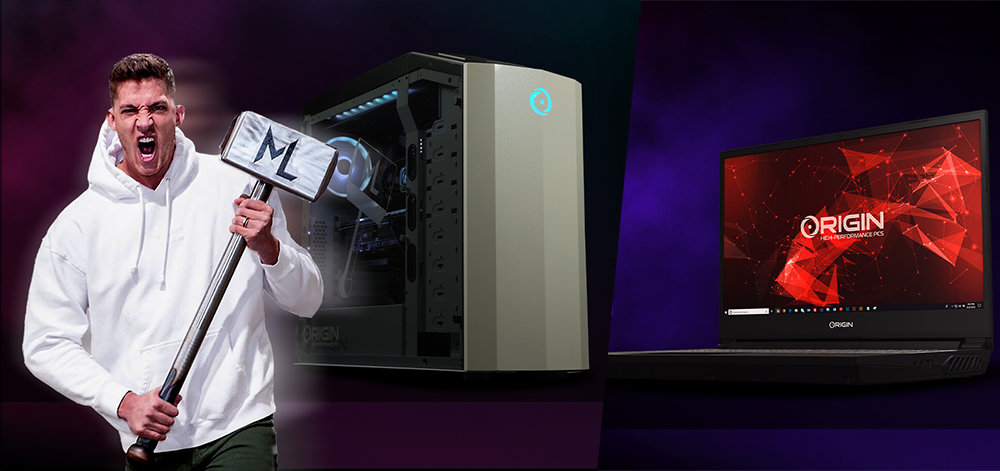 JUST LAUNCHED: Giveaways Featuring AMD-Powered ORIGIN PCs!
June 10, 2020 | By Luis
The ORIGIN PC team just launched two giveaways for different AMD-powered ORIGIN PC systems! Using the power of AMD Ryzen processors, these giveaway PCs are fully capable of running your favorite games and making work a breeze.
Our first giveaway features a MILLENNIUM gaming desktop powered by an AMD Ryzen 9 3900X processor with 12 cores. The desktop itself is inspired by Miami Heat player Meyers Leonard and includes a custom laser etch inspired by "The Hammer" himself!
Enter the AMD MILLENNIUM giveaway: https://www.originpc.com/landing/2020/meyers-leonard-amd-millennium-giveaway
The second giveaway includes our all-new EON15-X AMD gaming laptop powered by an AMD Ryzen 9 3900 desktop processor with 12 cores! The performance offered by this gaming laptop rivals desktops and can easily be transported for mobile gaming or work.
Be sure to check out our new EON15-X product video:
Enter the AMD EON15-X giveaway: https://www.originpc.com/landing/2020/amd-eon15-x-giveaway/
These giveaways are going to be open for a limited time so make sure you enter before they end in July! We will announce the winners via a stream so you can tune in to our Twitch channel to watch the announcement live! The winners will be contacted via email so watching the stream isn't required, but it's a fun way to see the winner announcement!
If you would like more information on a gaming PC or other products such as the best gaming laptop or best gaming desktop, call 1-877-674-4460 to speak with a sales representative. We offer 24/7 customer support and worldwide shipping options. Stay up to date with the latest news by checking us out and following us on Facebook and Twitter.