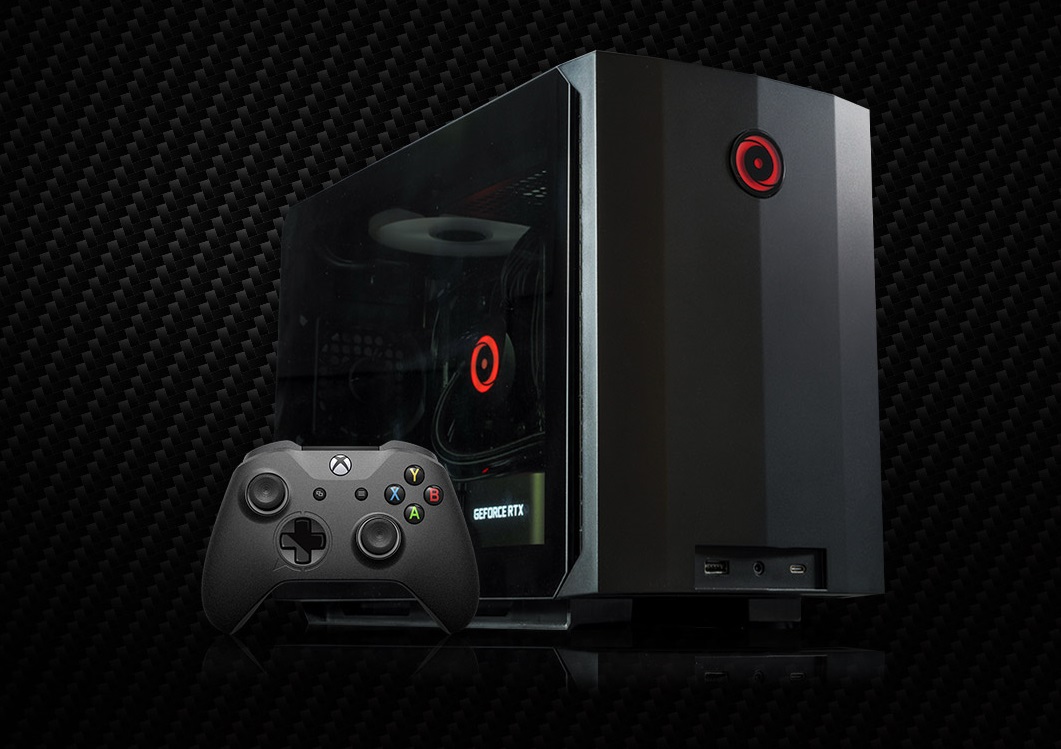 INTRODUCING THE ALL-NEW CHRONOS: The Highest Performance Ever in a Small Form Factor Desktop
September 28, 2020 | By Luis
We're proud to announce the latest iteration and evolution of our exclusive CHRONOS small form factor desktop with higher performance, easier upgradability, and an all-new compact and sleek design. Building upon previous ORIGIN PC desktop engineering, the all-new CHRONOS makes it possible to customize extensively, including different Mini ITX and DTX motherboard options to choose from and a full-length graphics card up to an NVIDIA GeForce RTX 3090. Gamers, artists, engineers, content creators, and professionals can all benefit from the desk-saving space offered by the CHRONOS without having to sacrifice performance or upgradeability.
The compact design of the CHRONOS measures only 15.5" long, 11" wide, and 7" tall, and offers a plethora of customization options. To start with the chassis, customers can choose from either tempered glass side panels or vented side panels. The vented side panels make it possible to include up to a 240mm all-in-one CPU liquid cooler and CPU overclocking support. Alternatively, the tempered glass side panels allow the internals to be more widely visible to showcase the system's optional RGB lighting, laser etching, or HD UV prints. Both side panel options are toolless, making it simple to access the components inside for maintenance or upgrades. On all variations of the CHRONOS, the top, bottom, and rear panels feature multiple vents for efficient system cooling. There are three I/O ports at the front of the system, including a Type C port, a USB 3.0 port, and a 2-in-1 audio jack as well as conveniently located cooling vents. The ORIGIN "O" logo in the front not only serves as an included aesthetic CORSAIR iCUE RGB add-on but also acts as the power button for the system.
The internal design of the CHRONOS allows for a 750 Watt small form factor power supply to be vertically mounted to a top-mounted bracket allowing for plenty of space for the other components. The ORIGIN PC team worked extensively to leverage this extra space to keep the system cool while playing games or working on intensive projects. The new CHRONOS's spacious internal design combines the vents around the system, support for up to four fans, and uses an all-in-one liquid cooling solution for the CPU. Customers can choose between a 10-core Intel Core i9-10900K or a 16-core AMD Ryzen 9 3950X, up to an NVIDIA GeForce RTX 3090 graphics card, up to 32GB of RAM at 3200MHz, and up to two M.2 SSDs, one 2.5" SSD, and one 3.5" HDD.
Professionals, engineers, and creators can also customize their ORIGIN PC S-Class workstation desktop using the new CHRONOS design. Customize the workstation desktop with an NVIDIA GeForce RTX or Quadro RTX graphics card, massive storage capacity, and powerful CPUs, including your choice of the Intel Core i9-10900K or an AMD Ryzen 9 3950X.
"The all-new CHRONOS represents one of the biggest generational leaps in performance ORIGIN PC has ever seen with the capacity to fit the incredibly powerful NVIDIA GeForce RTX 3090 in a small form factor desktop.  With its compact size and uncompromising power, the new CHRONOS is truly one of the best systems for next-generation gaming," said Kevin Wasielewski, ORIGIN PC CEO and co-founder. "Similar to all ORIGIN PCs, the exterior of the CHRONOS can be customized including options for vented or tempered glass side panels and further personalized with your choice of custom laser etching or HD UV print designs. Coupled with CORSAIR iCUE RGB controls, the lighting effects can be preset to your liking or current mood. Not to mention, your CHRONOS will also be backed by a world-class U.S. based support team 24/7/365."
You can customize their own CHRONOS desktop on ORIGINPC.com, starting at $1449. Every CHRONOS desktop comes backed by ORIGIN PC's 24/7 US-based support team.
For more information on the all-new CHRONOS, please visit: https://www.originpc.com/gaming/desktops/chronos-v2
For more information on the all-new S-Class, please visit: https://www.originpc.com/workstation/desktops/s-class-v2/