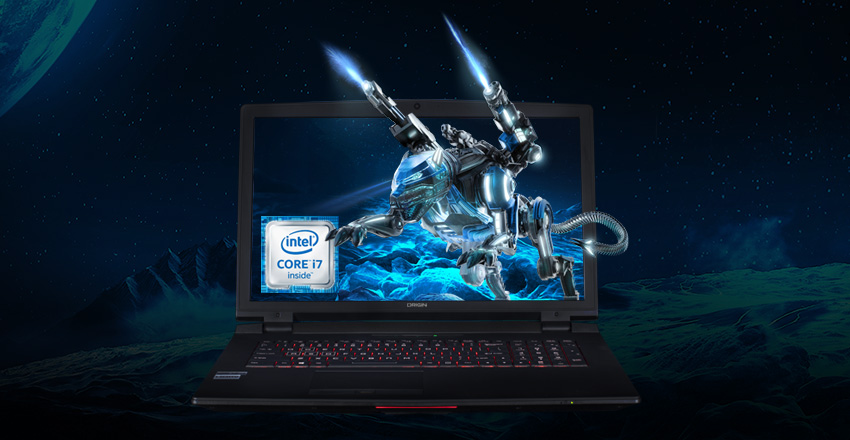 EON17-X: Intel Skylake Power on the Go
October 5, 2015 | By Anthony
Skylake is the codename given to the sixth generation of Intel's Core processors, launched back in August and the successor to the company's Broadwell architecture.  Skylake is designed to boost performance across the CPU and GPU (which handles the graphical processing and output in PC games) while focusing on reducing the amount of power consumption.  Due to its improved efficiency in power consumption and its wire free capabilities Intel calls Skylake their most significant processor to date.
ORIGIN PC's EON17-X desktop replacement laptop now features an overclocked Skylake processor, also known as the Intel Core i7.  Together with the NVIDIA GeForce GTX 980M GPU, this is one of the fastest notebooks currently available in the industry, delivering both power and performance.  The EON17-X has a crisp 17.3" screen with 1080p HD resolution along with the optional NVIDIA G-SYNC that eliminates screen tearing, critical when you're planning first person shooter games, editing HD video or watching an intense sequence during a movie.  The PC also supports up to 32GB of DDR4 RAM, allowing for easy multitasking.  Our most recent model is 37.5% thinner than the previous generation EON17-X and now that it's twenty percent lighter, it's much easier to enjoy gaming on the go.
The EON17-X gaming laptop along with its smaller sibling the EON15-X are both designed to handle the most demanding PC games.  Call 1-877-674-4460 to order your customized EON17-X desktop replacement and enjoy 24/7 support for the lifetime of the computer.  You can also visit our website and speak live with an ORIGIN PC sales rep.