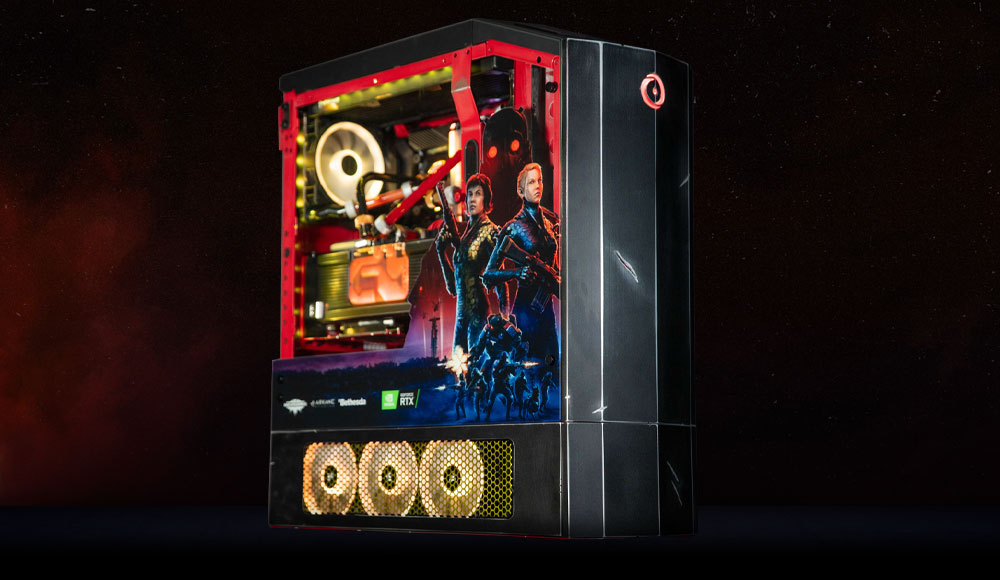 Win a Custom Wolfenstein-Inspired GENESIS
January 20, 2020 | By brian
If you've been eager to get your hands on one of our popular gaming PCs, listen up! We're joining forces with NVIDIA GeForce to give away a unique GENESIS Gaming Desktop featuring a design inspired by the RTX release of Wolfenstein: Youngblood. It comes equipped with dual custom liquid-cooled NVIDIA GeForce RTX 2080 Ti graphics cards plus a liquid-cooled Intel Core i9-9900K processor!
Released last year, Wolfenstein: Youngblood is a first-person shooter taking place two decades after the events of Wolfenstein II: The New Colossus. Thanks to the efforts of classic protagonist B.J. Blazkowicz, the world is largely free of Nazi control. Players take on the role of either Jessie or Zofia Blazkowicz, the daughters of B.J. as they set out to find their father who has mysteriously disappeared. The game can be played cooperatively and missions can be completed in any order.
You have until February 6, 2020, to enter for your chance to win. Visit the ORIGIN PC GENESIS Giveaway Powered by ORIGIN PC and NVIDIA GeForce RTX page for more information. You can also check out additional PC specs as well as a video showing the amount of work, creativity, detail, and inspiration that went into designing the PC.
If you would like more information on ORIGIN PC products such as the best gaming laptop or the best gaming desktop, call 1-877-674-4460 to speak with a sales representative. We offer 24/7 customer support and worldwide shipping options. Stay up to date with the latest news and giveaways by checking us out and following us on Facebook and Twitter.