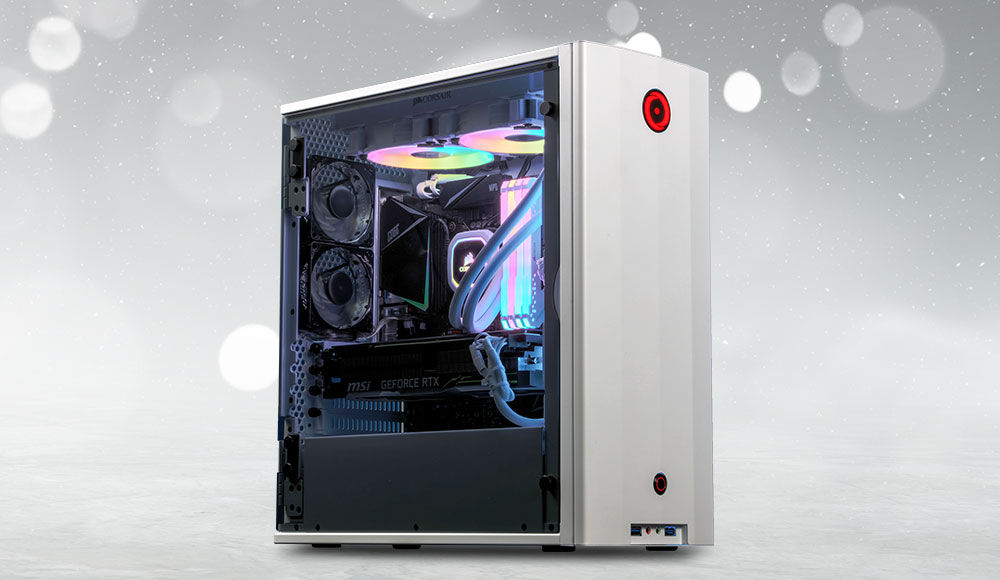 We're Dreaming of a White Neuron
November 20, 2019 | By brian
It's all about custom creativity when designing your ORIGIN PC, and that means choosing the colors of your exterior as well as the components. With fewer than two weeks to go before the start of the holiday shopping, we're excited to unveil the new Special Edition Neuron RTS desktop, just in time for the season!
The Special Edition Neuron RTS takes our critically-acclaimed Neuron Desktop and reinvents it with an all-white edition, available while supplies last. From the case to the power supply and radiator fans, this festive take on the desktop delivers holiday cheers and the massive power that has earned it tons of praise. Best of all, because it's one of our RTS systems, it ships in as little as one business day with FREE ground shipping.
Whether you're planning on gifting yourself a new PC or if you need a gift for the gamer in your life that will arrive in time, the Special Edition Neuron delivers in looks and performance, and speedy shipping. It comes with an Intel Core i9-9900K 8-Core 3.6GHz processor, an NVIDIA GeForce RTX 2080 Ti GPU, and 32GB of white CORSAIR Vengeance RGB PRO RAM. This build is fully capable of handling the holiday's hottest games and upcoming PC games in 2020.
If you would like additional information on an ORIGIN PC gaming PC, the best gaming PC, or if you're interested in the best gaming laptop, call 1-877-674-4460 to speak with a sales representative today. We offer 24/7 customer support and worldwide shipping options. Stay up to date with the latest news and giveaways by checking us out and following us on Facebook and Twitter.