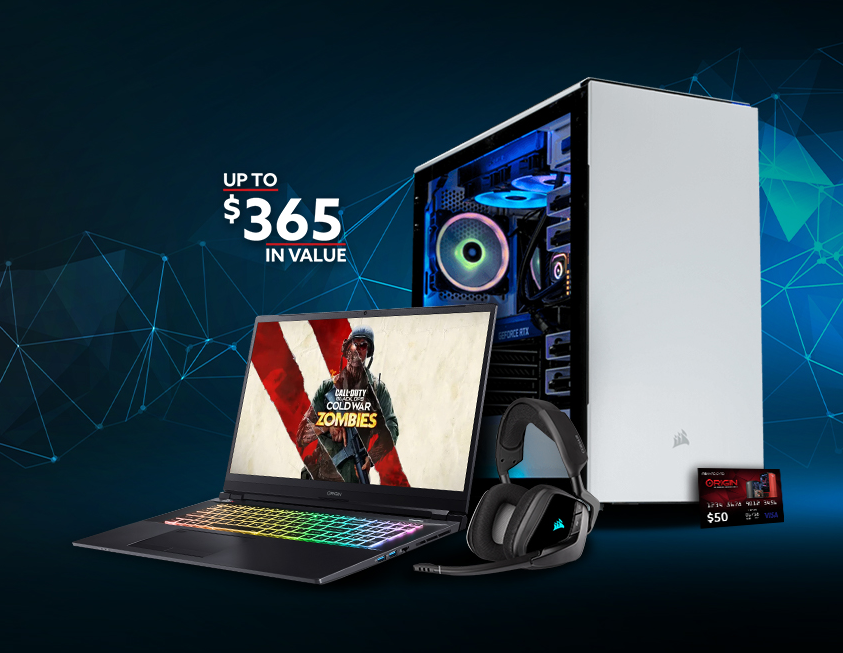 Next-Gen Power Has Arrived This November!
November 2, 2020 | By Luis
November marks an exciting month for gamers around the world with the release of several new games, as well as the introduction of new PC hardware and next-gen consoles. On the PC side of things, new graphics cards and processors are being introduced, pushing the PC platform further, on top of previously released components such as the NVIDIA GeForce 30-Series.
During the month of November, we're offering multiple offers for our gaming laptops and gaming desktops including bonus digital games, free US ground shipping, and more.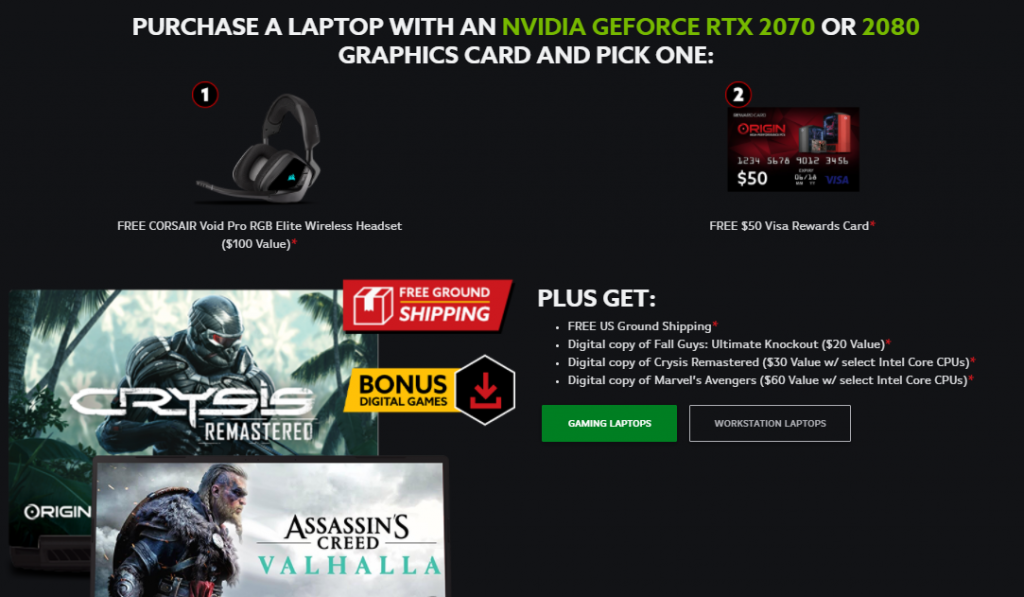 If you purchase a laptop with an NVIDIA GeForce RTX 2070 or 2080 graphics card, you can choose between a free CORSAIR Void Pro RGB Elite wireless headset or a free $50 Visa Rewards card. You'll also get free US ground shipping and digital copies of Fall Guys: Ultimate Knockout, Crysis Remastered, or Marvel's Avengers with qualifying hardware.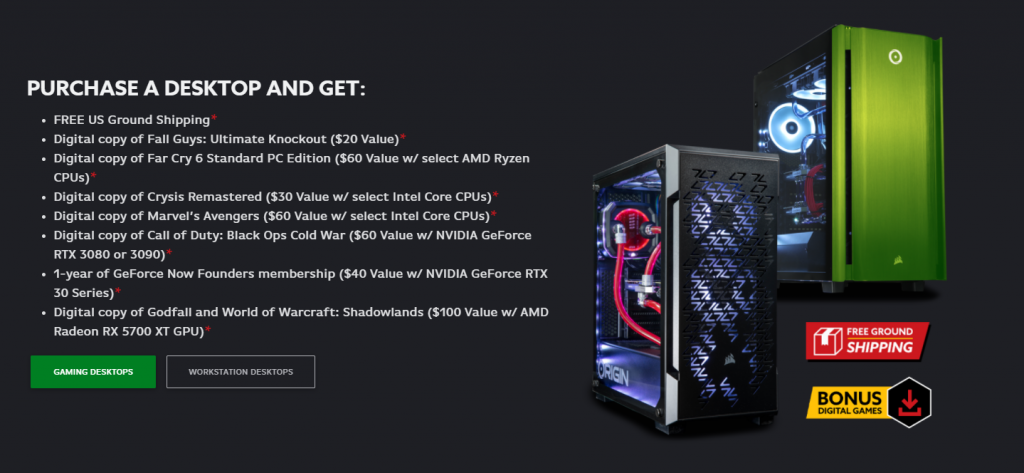 Those who purchase an ORIGIN PC desktop will receive free US ground shipping, a digital copy of Fall Guys: Ultimate Knockout, and multiple digital games depending on the components selected for their desktop. If you customize your desktop with select AMD Ryzen processors, you'll get a digital copy of Far Cry 6 when it releases in 2021. By going with select Intel Core processors, you'll be eligible for digital copies of Crysis Remastered or Marvel's Avengers.

A desktop customized with a GeForce RTX 3070 will get a 1 year GeForce Now Founders membership, desktops with an RTX 3080 or 3090 will get the GeForce Now Founders membership, plus a digital copy of Call of Duty: Black Ops Cold War. If you choose an AMD Radeon RX 5700 XT graphics card for your desktop, you'll get digital copies of Godfall and World of Warcraft: Shadowlands, both of which are coming out later this month.
Professionals that work with Adobe Creative Cloud should take note of our special offer for our L-Class Studio desktop which will include free US ground shipping and 3 months of Adobe Creative Cloud for new or existing subscribers.
If you would like more information on a gaming PC or other products such as the best gaming laptop or best gaming desktop, call 1-877-674-4460 to speak with a sales representative. We offer 24/7 customer support and worldwide shipping options. Stay up to date with the latest news by checking us out and following us on Facebook and Twitter.