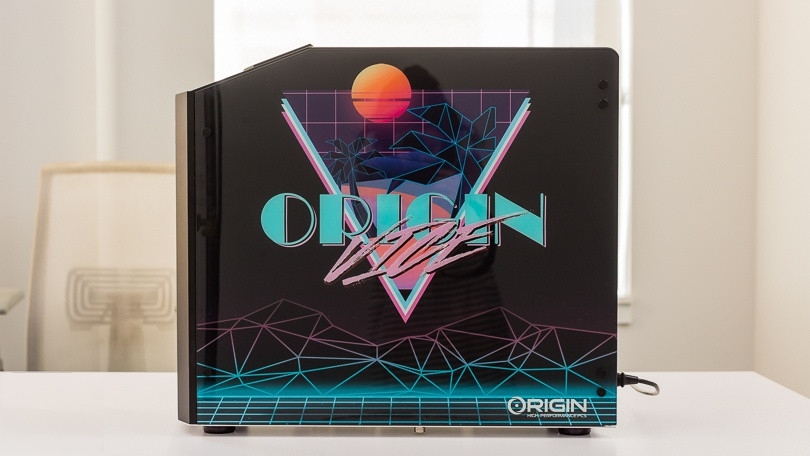 PC Mag Reviews the "Gorgeous" Millennium Hard Line Vice Edition
August 28, 2019 | By Anthony
Remember the days when Miami Vice was one of the coolest shows on television? We've thrown it back to the decade of blazers and power suits by introducing the Millennium Hard Line ORIGIN VICE Edition, a customized Millennium Gaming Desktop featuring a retro outer shell clearly an homage to the decade of bold colors. PC Magazine recently got its hands on one of these and called it a "gorgeous throwback", praising the "monstrous raw graphics and gaming performance" and saying it packs "all the cutting-edge gear 2019 can offer."
The Millennium Hard Line ORIGIN VICE Edition may feature a retro-inspired exterior, but inside it's all about cutting-edge hardware and custom PC design. It boasts the highest flexibility and customization ever offered on an ORIGIN PC desktop, from different motherboard mounting options to extensive case customization that allows you to get creative with designing a powerful rig no one else is going to have.
Speaking of innovation, the Millennium is just one of two PCs featuring ORIGIN PC CRYO CORE, a liquid cooling distribution motherboard mount. Available in standard orientation, CRYO CORE redistributes cooled liquid from the radiator to the CPU and GPU simultaneously. For improved aesthetics, you can design your system to use dual tempered glass panels so you can see the CRYO CORE with a visible flow meter and RGB lighting. Add your 80s-inspired design or anything you want with HD UV Glass printing or go for something modern.
If you would like additional information on an ORIGIN PC gaming PC, the best gaming laptop, or if you're interested in an RTX PC, call 1-877-674-4460 to speak with a sales representative today. We offer 24/7 customer support and worldwide shipping options. Stay up to date with the latest news by checking us out and following us on Facebook and Twitter.