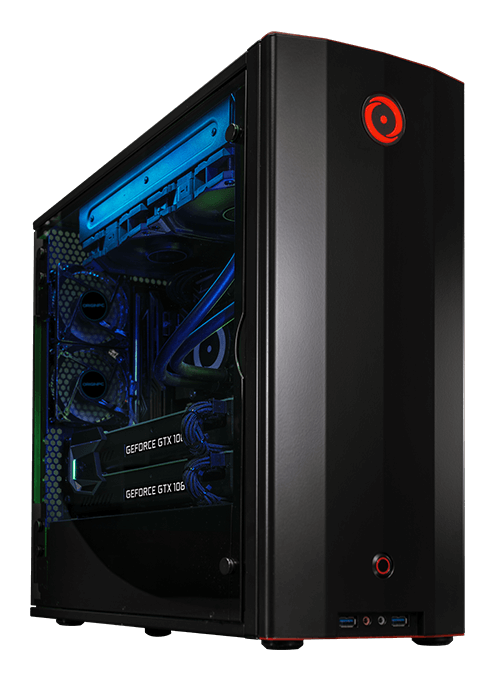 Introducing the All-New NEURON
October 15, 2018 | By brian
Here's some not so spooky news to start off the week. In case you missed it, we recently unveiled the new and improved NEURON Custom Gaming PC! The mid tower continues to be a big hit with each iteration. The popular website Tom's Hardware has called it "an elegant gaming monster" while PC Magazine says it's a "stellar gaming machine with practically unrivaled power".
We're proud to say that with the all-new NEURON, we've once again upped the ante in delivering a product that looks great and performs even better. The PC features an all-new exclusive steel chassis design with a tool-less tempered glass side panel and it is ready to handle all of your streaming, VR, and 4K gaming needs. In fact, the new NEURON can comfortably accommodate up to dual NVIDIA GeForce RTX 2080 Ti's, which feature support for ray tracing gaming, or up to 1 Single NVIDIA GeForce RTX 2080 Ti GPU and 1 more PCI based card such a Capture Card for streaming. Together with the NEURON's support for Intel's ninth generation of Core™ processors or AMD Ryzen™ processors and up to 64GB of RAM, the NEURON can deliver an unprecedented level of incredible gaming experiences. Set it horizontally, vertically, it's all up to you.
Start building your NEURON today and see for yourself why so many reviewers love this mid-tower gaming powerhouse.
If you would like additional information on an ORIGIN PC gaming PC, custom gaming desktops customized with a Nvidia GPU or if you're interested in a custom computer, call 1-877-674-4460 to speak with a sales representative today. We offer 24/7 customer support and worldwide shipping options. Stay up to date with the latest news by checking us out and following us on Facebook and Twitter.