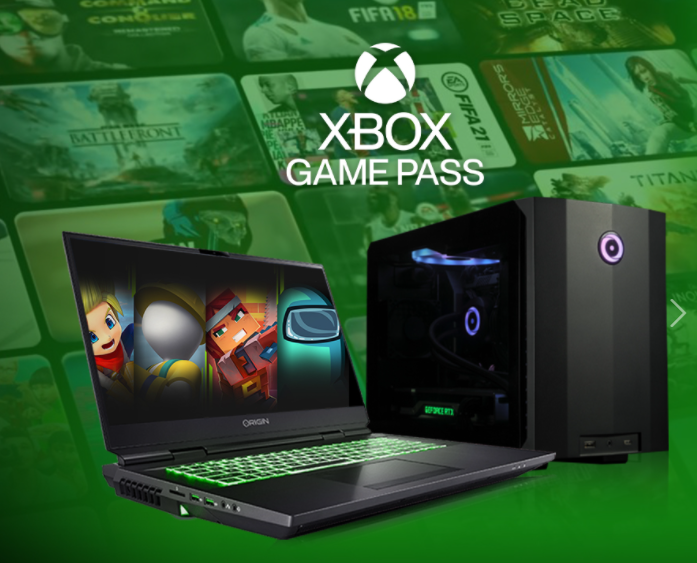 Get A Month Xbox Game Pass For PC With Your ORIGIN PC!
July 12, 2021 | By Anthony
Whenever you get access to new PC hardware there's the excitement of putting the system to the test to play an assortment of games. However, with new gamers entering the world of PC gaming, they might not have access to a massive library of games to play out of the box. Now, when your purchase an ORIGIN PC desktop or laptop with Windows 10, you'll get access to a free month of Xbox Game Pass for PC to get access to over 100+ PC games!
After receiving your system all you have to do is use the Xbox Game Pass app on your PC to redeem the free month and get access to games such as Halo: The Master Chief Collection, Forza Horizon 4, Microsoft Flight Simulator, DOOM Eternal, Minecraft Dungeons, and more! Some games available on Xbox Game Pass can push your system to showcase its full potential, while others can be more relaxing romps to take it easy after a workday.
The addition of a free month of Xbox Game Pass for PC makes your PC delivery even sweeter. Being able to have access to a wide assortment of games might be intimidating at first, but with so many games and genres to choose from you'll be gaming on your ORIGIN PC in no time.
Want to make the leap to the world of PC gaming? Customize your ORIGIN PC desktop or laptop on ORIGINPC.com today to make your dream build ready to play games on Xbox Game Pass for PC and more.