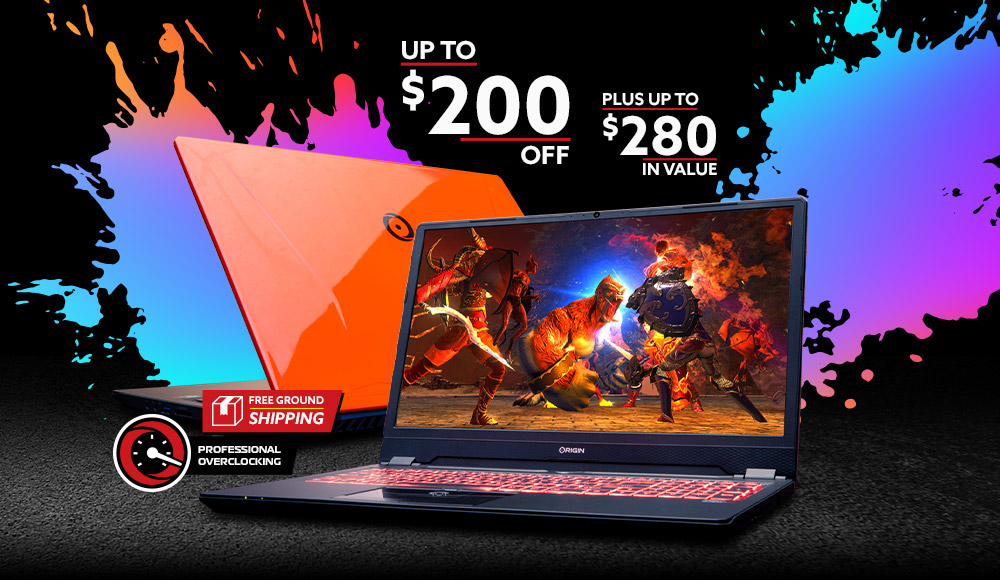 Save on All of Our PCs During the February Promotion
February 6, 2020 | By brian
By now, you're likely aware that we've developed a strong reputation for offering players as much choice as possible. From components to colors and even HD UV printing, laser etching, or custom painting, we want to make sure your PC isn't just like everyone else's. That's why this month, we're offering deep discounts on all of our acclaimed laptops and desktops plus an incredible $400 in value including bonus games and more!
That's right! During February, you can save up to $200 on all of the ORIGIN laptops, from the ultra-portable EON15-X Gaming Laptop to the NS-17 Mobile Workstation. Besides the savings, you'll also receive FREE ground shipping and FREE CPU and GPU professional overclocking to squeeze as much power out of your laptop as possible.
If you want to upgrade to the power of our desktops, you can save a cool $75 on all our desktops, and you'll also receive FREE ground shipping and a $500 Education Discount (with the purchase of a TITAN RTX GPU).
Add an AMD Radeon RX 5700 XT to your ORIGIN PC desktop and get the upcoming Resident Evil 3, Monster Hunter World: Iceborne Master Edition, and three months of Xbox Game Pass for PC. Choose select AMD Ryzen CPUs and receive up to two digital games including The Outer Worlds and Borderlands 3 plus three months of Xbox Game Pass for PC for even more gaming. Choose select Intel Core i7 or i9 CPUs and receive a digital copy of Neverwinter digital content, Red Dead Redemption 2, and more.
Please be aware some rules and restrictions apply, which you can read more about on the February Promo page. If you would like more information on a gaming PC or other products such as the best gaming laptop, call 1-877-674-4460 to speak with a sales representative. We offer 24/7 customer support and worldwide shipping options. Stay up to date with the latest news by checking us out and following us on Facebook and Twitter.