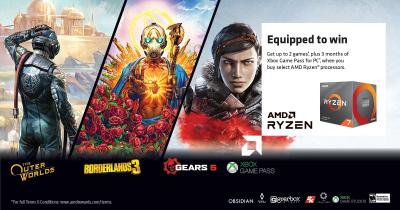 Unleash the Power of AMD Ryzen
October 7, 2019 | By brian
Last month's Borderlands 3 is all about saving the galaxy from the nefarious Troy and Tyreen Calypso twins. To ensure your mission succeeds, the powerful performance of AMD Ryzen™ processors is here to save the day. If you customize an ORIGIN PC rig with select AMD Ryzen processors, you can get a special bundle including Borderlands 3, the upcoming The Outer Worlds, and three months of Xbox Game Pass for PC to play the hottest new titles, likeGears 5.
Scheduled for release later this month, The Outer Worlds is a role-playing game by Obsidian, the developer of titles like Fallout: New Vegas and the Pillars of Eternity series. In The Outer Worlds, players must uncover a deep conspiracy threatening to destroy Halcyon, humanity's furthest colony located on the edge of the galaxy frontier. As you explore the colony, decisions made by the player will determine how the story unfolds.
With Xbox Game Pass you'll have unlimited access to more than 100 games to play on your brand new custom PC. Unlock plenty of achievements while taking down foes and exploring new worlds in richly detailed 4K resolutions on your new PC.
Please be aware some rules and restrictions apply, which you can read more about on the AMD Equipped to Win Bundle page. If you would like additional information on an ORIGIN PC gaming PC, the best gaming PC customized with AMD, or if you're interested in the AMD Radeon RX 5700 XT, call 1-877-674-4460 to speak with a sales representative today. We offer 24/7 customer support and worldwide shipping options. Stay up to date with the latest news by checking us out and following us on Facebook and Twitter.
Thanks,