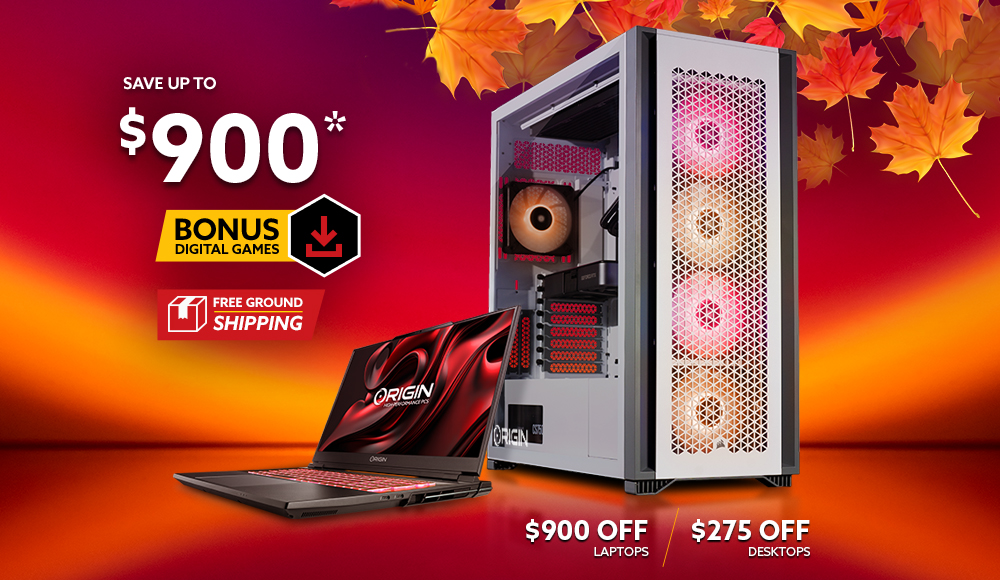 Fall Savings available now at ORIGIN PC
October 3, 2023 | By Anthony
Celebrate Fall with savings on premier gaming and workstation ORIGIN PCs. Gamers can enter an immersive gaming experience with powerful hardware to take the gaming PC experience to the next level. Creatives and professionals can customize a workstation desktop or laptop to save time by completing workloads faster.  
All custom desktops feature reduced pricing for the duration of the promotion. Details below – Fall promotion for desktops: 
$275 Off

 

Bonus Games

 

Free Shipping

 
Regarding gaming desktops, check out the GENESIS which features a spacious interior, super-charged hardware, and access to liquid cooling for maximum performance. Featuring the new iCUE LINK smart component ecosystem, control all compatible devices with one system hub. With it, also find Individual temperature control sensors, a built-in microcontroller for two-way communication, and more. Thanks to the efficiency of HydroX ICUE LINK liquid cooling, enjoy reduced noise levels and an optimal environment for hardware longevity and performance. 
Professionals can choose from a wide range of systems including an S-Class for the space conscious user, or an L-Class to leave room for future upgrades and access to the strongest components. The L-Class supports up to 4 GPUs, 1TB DDR4 memory, and 6 separate hard drives. No matter the task, an ORIGIN PC workstation desktop can easily be customized to meet it. 
Laptops are also included in the fall promotion, details below – 
EVO17-S: 
40-Series Laptops: 
Save $900 on a compact EVO17-S, weighing in at only 5.07 lbs., while 0.78 inches thin. Gain the competitive advantage with a fast 144Hz refresh rate on a beautiful FHD display 17.3" display; catch every detail and every frame. Supporting up to 64GB DDR5 DRAM and 8TB storage, store a collection of your favorite games, boot up fast, and multi-task to your heart's content. 
For the latest graphics performance, customize an EON-series laptop like the EON17-X with up to an NVIDIA GeForce RTX 4090 graphics card. The pinnacle of gaming performance you can take anywhere, the EON17-X makes the most out of every gaming session. Choose from a brilliant 17.3" UHD display or an ultra-responsive 240 Hz QHD based on preference and enjoy the view by adding on up to an additional 4 displays. Our most powerful laptop ever designed stands to offer praiseworthy gaming power, endless connectivity options, and a portable, convenient design to bring anywhere.  
Learn more about ORIGIN PC and promotions at originpc.com.