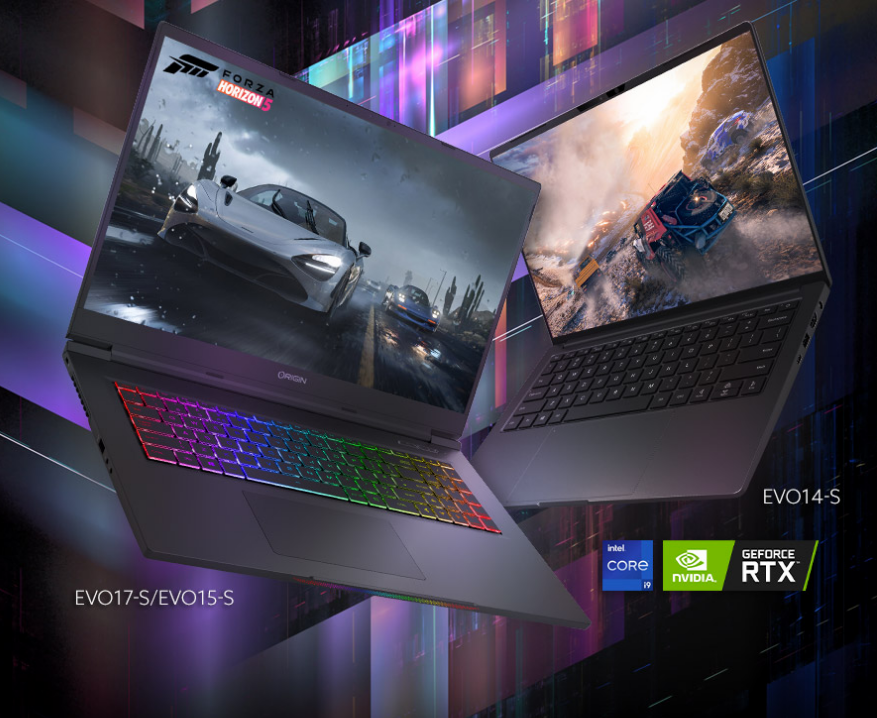 New Thin and Light Laptops Available Now!
April 21, 2022 | By Anthony
ORIGIN PC is happy to announce the launch of our latest thin and light laptops.
Our new, upgraded flagship models are the EVO17-S and NT-17. The EVO17-S comes equipped with an Intel® Core™ i9-12900H 14-core processor, an NVIDIA® GeForce RTX™ 3080 Ti GPU, and support for up to 64GB of DDR5 DRAM, while a 240Hz QHD screen displays all your games in stunning detail. Dedicated to providing the ultimate gaming performance, ORIGIN PC is proud to offer top of the line laptop systems.
We're also introducing the two brand new thin and light laptops – the EVO14-S and NT-14. Along with their 14″ displays, they provide remarkable small form factor performance and can be equipped with up to an NVIDIA GeForce RTX 3090 or NVIDIA RTX A6000 using an external GPU. Weighing only 2.4 pounds, the new EVO14-S and NT-14 provide users the excellent power ORIGIN PC is known for without compromising the portability benefits of a laptop.
The EVO15-S, EVO17-S, NT-15, and NT-17 systems feature massive hardware upgrades to meet the growing demands of users. For those looking for an expanded display, Thunderbolt 4 and HDMI ports allow up to two additional monitors.
More information about ORIGIN PC's new gaming laptops, can be found here: Gaming Laptops.

More information about ORIGIN PC's workstation laptops, can be found here: Workstation Laptops.