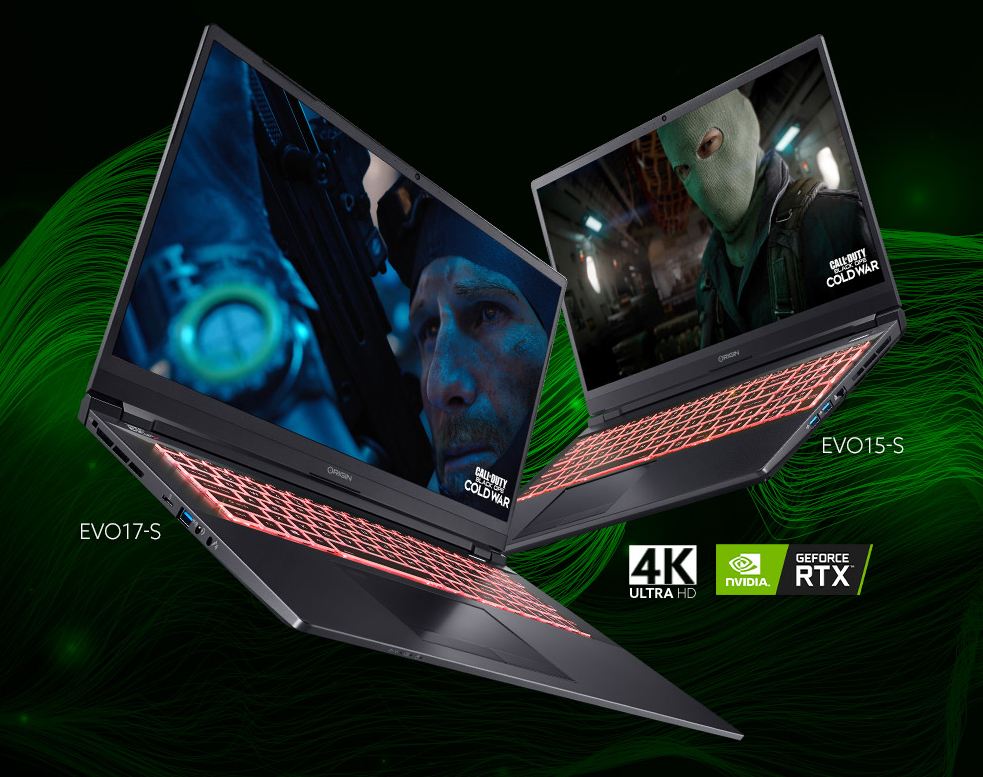 NOW AVAILABLE: GeForce RTX 30 Series Graphics Cards on Thin and Light Laptops!
January 12, 2021 | By Luis
ORIGIN PC announced the availability of the all-new EVO15-S and EVO17-S gaming laptops as well as the all-new NT-15 and NT-17 workstation laptops, now powered by NVIDIA GeForce RTX 30 Series graphics cards with Max-Q design for gamers and professionals. With the updated Ampere architecture, the graphical performance in the thin and light laptops allow gamers and professionals to experience improved real-time ray tracing along with greater performance across games and software. Even with the addition of GeForce RTX 30 series graphics, the EVO15-S and NT-15 laptops weigh 4.4 pounds and are 0.77 inches thin while the EVO17-S and NT-17 laptops weigh 5.07 pounds and measure 0.78 inches thin.
The EVO15-S, EVO17-S, NT-15, and NT-17 are the first laptops from ORIGIN PC to feature NVIDIA GeForce RTX 30 Series graphics with Max-Q design. Add up to a GeForce RTX 3080 16GB with Max-Q design to get the best possible graphical performance on a thin and light ORIGIN PC laptop. As with the desktop graphics cards, the GeForce RTX 30 Series graphics cards with Max-Q design support real-time ray tracing, DLSS, and NVIDIA Reflex giving gamers a next-gen experience in a thin and light laptop. Rounding out the laptops are the inclusion of 10th gen Intel Core i7 8-core processor, up to 64GB of RAM, and support for M.2 NVMe storage drives.
There are multiple display options to choose from on the all-new thin and light laptops. Gamers seeking a highly responsive screen can add a 300Hz 1080p WVA display, perfect for fast-paced multiplayer games. If higher resolutions are required for games or software, you can add a 60Hz 4K display to the EVO15-S or NT-15, or a 60Hz 4K display with 100% Adobe RGB coverage on the EVO17-S or NT-17. Additional screens can be connected to the laptops via HDMI, Mini DisplayPort, and a Thunderbolt 3 port.
The EVO15-S, EVO17-S, NT-15, and NT-17 laptops come with Free Lifetime support and are proudly supported by the US-based ORIGIN PC team, available 24/7. The EVO15-S starts at $2182, the EVO17-S starts at $2194, the NT-15 starts at $2222, and the NT-17 starts at $2235. As a bonus, these new laptops also get free US ground shipping and bonus digital games as a part of our January promo.
If you would like more information on a gaming PC or other products such as the best gaming laptop or best gaming desktop, call 1-877-674-4460 to speak with a sales representative. We offer 24/7 customer support and worldwide shipping options. Stay up to date with the latest news by checking us out and following us on Facebook and Twitter.