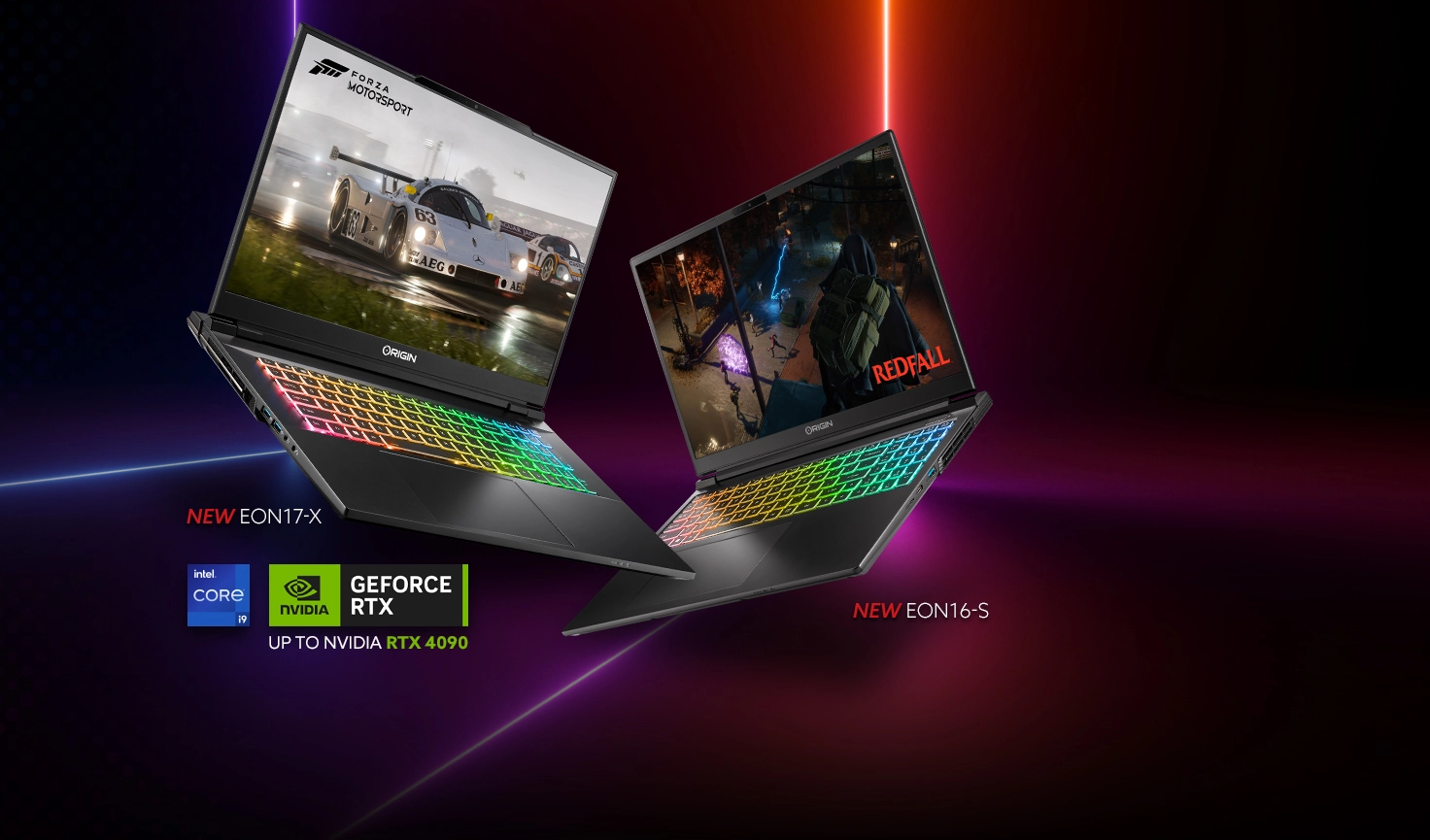 New 40 Series EON and NT laptops available now!
March 22, 2023 | By Anthony
Check out ORIGIN PC's latest launch – 40 Series laptops. Gamers and professionals alike now have access to the fastest and strongest portable performance available today. Introducing our EON16-S, new EON17-X gaming laptops as well as the NS-16 and new NS-17 workstation laptops.
Gamers can access the latest generation of graphics performance with a powerful EON17-X or extra portable EON16-S. The new EON17-X is ORIGIN PC's strongest laptop ever designed and compared to its predecessor, it's 13% lighter and 42% thinner. You're looking at not just improved performance, but a lighter, thinner 0.98 inch build resulting from technological advancements. As a leader in the next generation of gaming performance, it can be customized with up to the flagship NVIDIA GeForce RTX 4090 graphics card and also comes equipped with a powerful Intel Core i9-13900HX processor. In contrast, the EON16-S is only 0.78 inches thin and offers up to the NVIDIA GeForce RTX 4070 as well as an Intel Core i9-13900H processor. Still a powerful, modern system, it emphasizes portability and proves to still be a huge upgrade in laptop performance.
On the workstation side, the NS-17 is also our strongest workstation system ever created, while the NS-16 is a powerful yet slightly smaller alternative. Like the EON17-X, it offers 4090 graphics and an Intel Core i9-13900HX processor to empower professionals and creatives to do their best work. They're perfect for anyone working from home or frequent travelers – high-performance has never been this easy to bring with you anywhere. Both of these top-end models can be equipped with up to 64GB of DDR5 RAM and 24TB of storage to hold onto a limitless supply of essential files, programs, and games for users. Both laptops also offer a 17.3" display with the options to choose from either a 240Hz QHD display or 144Hz UHD display, based on personal preference and needs. One more key feature of the two laptops is that they can support up to 4 additional displays for an improved gaming experience or an opportunity for professionals to see all their projects simultaneously.
For more specifics on the 16″ laptops, they can be equipped with up to 64GB of DDR5 RAM and 16TB of storage, still a solid amount of space to get the job done. On top of the powerful internal hardware these laptops offer, they're equipped with QHD+ 240Hz monitors resulting in a high quality, high frame rate display. While lighter than their 17 inch counterparts, they still support up to 3 additional displays. Again, they're great alternatives for those who don't need flagship performance, or who want a little more portability from their system.
Finally, all ORIGIN PC systems come with 24/7 US Based support – our job isn't over even after you've received your system. To learn more about our high-performance systems, support, and customization options, check out originpc.com.