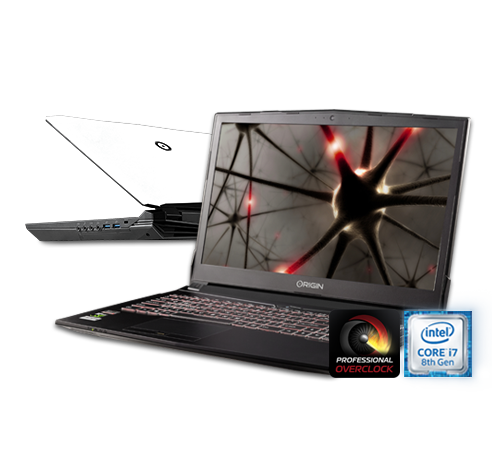 Intel's Latest Generation Arrives on the EON
November 22, 2017 | By Anthony
The latest generation of Intel® Core™ processors plus the Intel Z370 Chipset collectively redefine what the ORIGIN PC gaming laptops are capable of. This 8th generation comes with six cores that allow for even more processing power, further improving upon the 7th generation's four cores. Additionally, the 8thgeneration Intel processors also boast Turbo Boost 2.0 technology to boost the maximum turbo frequency up to 4.7 GHz, and up to 12 MB of cache memory.
For gamers that want to squeeze the most performance out of their overclocked processor, the Intel® Core™ i7-8700K rises to the challenge, capable of handling a 4K first person shooter, streaming, or an intense VR experience.
We're pleased to report Intel's 8th generation processors are now available on all of our EON laptops including the portable EON15-S Gaming Laptop or the larger desktop replacement EON17-X Gaming Laptop. The EON15-S weighs less than six pounds yet it comes equipped with desktop-class performance so you can game on the go no matter where you happen to be. Customize it with an Intel 8th generation processor, the ultra-powerful GeForce GTX 1050 Ti, and up to 32GB of RAM for the ultimate experience.
If you would like additional information on one of the ORIGIN PC gaming laptops with Intel's latest processors or our professional custom desktops, call 1-877-674-4460 to speak with a sales representative. We offer 24/7 customer support and worldwide shipping options. Stay up to date with the latest news by checking us out and following us on Facebook and Twitter.