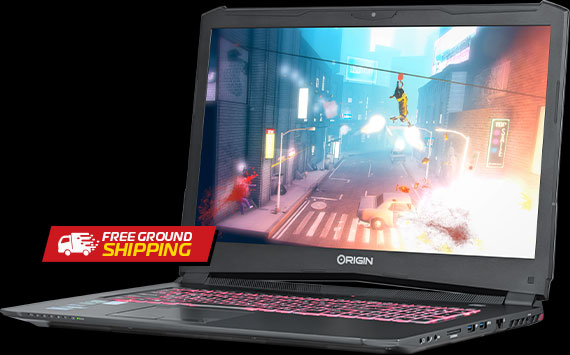 Get into the Game Faster with an RTS System
September 24, 2019 | By brian
With our extensive customization options, Origin PC has earned tons of acclaim for allowing you to create a PC that isn't just like everyone else's. That means customers can decide exactly how they want to create their PC, from the internal components to custom exterior designs, including custom paint, laser etching, or custom HD UV prints. Maybe you want the reliability of something that can handle today's demanding games and can make it to your doorstep in just a couple of days. Origin PC's Ready-to-Ship (RTS) Systems deliver the same level of performance you would expect.
Comprised of machines like the RTS EVO17-S laptop, our RTS systems are hand-built by certified ORIGIN PC specialists and have been rigorously tested. The RTS EVO17-S is powered by an NVIDIA GeForce GTX 1070 with Max-Q design, and its screen is ready to handle 4K gaming. These machines ship out within one or two business days and include the same 24/7 lifetime support, just like our custom PCs.
If you purchase an RTS system today, we'll include a digital game key for you to claim on Steam and play on your brand new system. The shoot 'em up title My Friend Pedro is all about eliminating as many of your foes as possible in stylish ways by slowing down time and performing death-defying stunts.
If you would like more information on a workstation or gaming PC, an RGB PC, other products such as the best gaming laptop or the best gaming PC 2019, call 1-877-674-4460 to speak with a sales representative. We offer 24/7 customer support and worldwide shipping options. Stay up to date with the latest news by checking us out and following us on Facebook and Twitter.