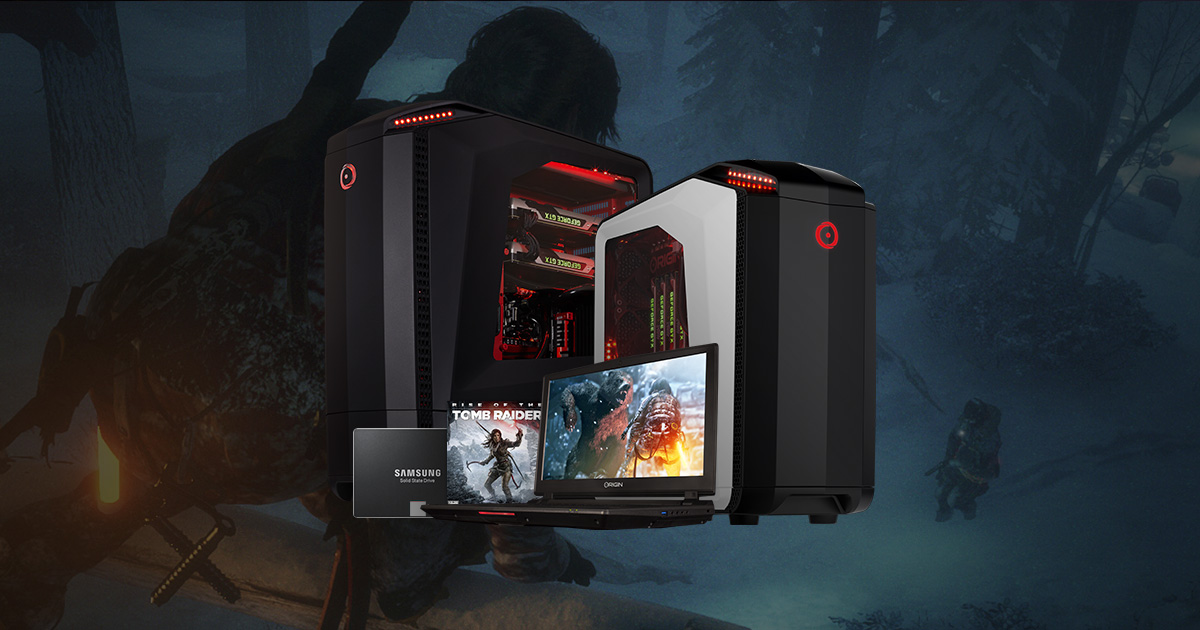 Check out Our January Promotion
January 13, 2016 | By Anthony

Did you receive an ORIGIN PC during the holidays?  If you've yet to experience the difference of working or gaming with one of our custom computers, we have a new January promotion that includes great games and some ORIGIN PC gear.  For a limited time, purchase any ORIGIN PC and you'll receive a Samsung 850 EVO 250GB solid state drive (SSD), an ORIGIN PC hoodie, plus a digital copy of Rise of the Tomb Raider and Star Wars Battlefront depending on the GPU purchased.  You'll also receive a $100 credit to use on certain Trion Worlds game titles.
Available with the purchase of a GeForce GTX 970 or above, Rise of the Tomb Raider is the latest entry in the classic Tomb Raider franchise and a direct sequel to the successful 2013 reboot. In the sequel, players will experience all-new, richly detailed environments and new features to aid Lara Croft in her latest adventure which includes improved combat mechanics  and a more robust crafting system.  Perhaps most notably is the new weather system and day-night cycle that players can use to their advantage.  The sequel has received critical acclaim and will be released on January 28th.
Choose an AMD Radeon R9 Fury and you can play as part of the Rebel Alliance or an Imperial Stormtrooper in Star Wars Battlefront.  Play online or offline in cooperative missions and take on the role of famous Star Wars franchise characters like Han Solo, Boba Fett, Darth Vader, and more.
If you would like additional information on ORIGIN PC's line of computers or to order one of our computers like the GENESIS Gaming Desktop, call 1-877-674-4460 to speak with a sales representative.  We offer 24/7 customer support and worldwide shipping options.