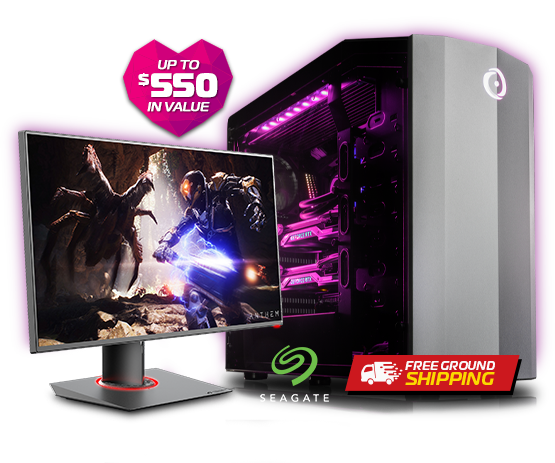 Upgrade to Your Heart's Desire with February Special Offers
February 4, 2019 | By Anthony
It's the month to celebrate love, whatever that may mean to you. For those of you that are in love with PC gaming, this is the month to celebrate and upgrade to your heart's desire with our February special offers featuring Seagate storage drive bonus.
This month, purchase select gaming desktops and we'll throw in the following extras:
• FREE 2TB Seagate FireCuda 2.5" SSHD
OR
• FREE 500GB Seagate BarraCuda 2.5" SSD
You'll also receive:
• FREE US Ground Shipping
• A Digital Copy of Battlefield V and/or Anthem (Up to $120 Value with Select NVIDIA GeForce RTX GPUs)
• A GeForce Fortnite Bundle (A $45 Value with NVIDIA GeForce GTX 1060 or 1070 GPU)
• A Digital Copy of The Division 2 (A $60 Value with 2nd Gen AMD Ryzen 5 or 7 CPUs)
• A Digital Copy of Call of Duty: Black Ops 4 (A $60 Value with Select Intel Core CPUs)
• FREE Digital Steam Key for SCUM (A $20 Value)
• FREE Star Trek: Online Gamma Vanguard Starter Pack and Tier 6 Archon
Class Assault Cruiser (A $50 Value)
We also have extra perks if you purchase select gaming laptops, including digital copies of this month's highly anticipated Anthem and Fortnite bundles. Visit the promotion page to learn more.
Please be aware there are certain rules and restrictions that apply, which you can read more about on the February Promo page. If you would like more information on a gaming PC or our other products such as a VR PC or the best custom gaming PC, call 1-877-674-4460 to speak with a sales representative. We offer 24/7 customer support and worldwide shipping options. Stay up to date with the latest news by checking us out and following us on Facebook and Twitter.