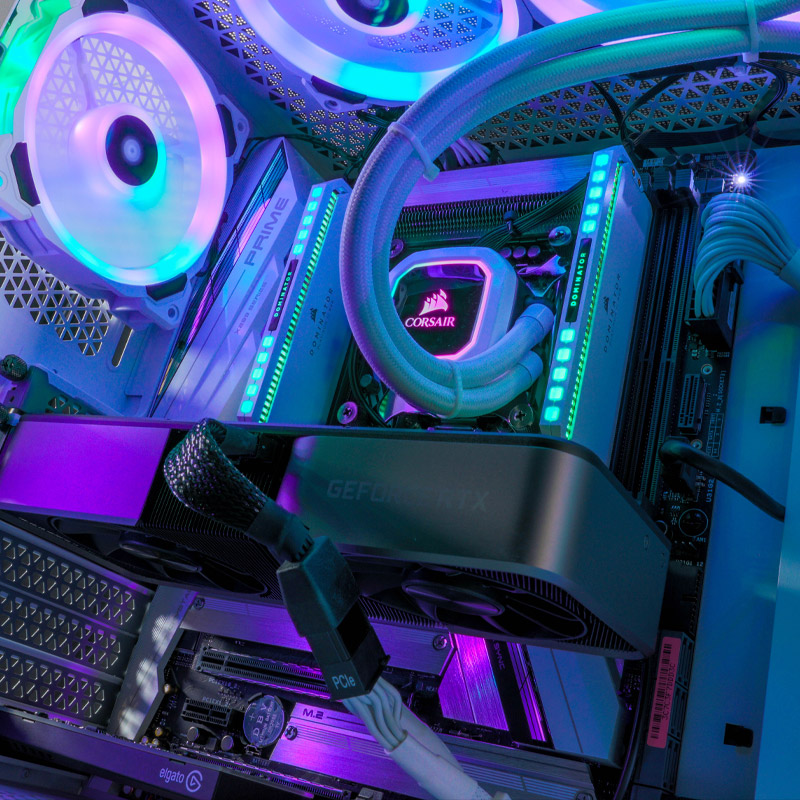 PC Build 101: What You Need to Know
June 23, 2023 | By Anthony
Do you want to build your own PC? Knowing what parts you need and how to assemble them can be daunting. This post provides an overview of the essential components of a desktop computer, as well as tips for choosing the right parts and putting them together.
What is a PC Build?
Advantages of Building a PC
If you know what you're doing and have free time to build a PC, it can be more cost-effective than buying a pre-built machine
However, if you don't know what you're doing, it can be a time consuming and frustrating effort
You can customize your PC to meet your exact needs and preferences
Of course, at Origin PC, we offer you the same flexibility, and let the professionals build it with the guarantee that it'll perform flawlessly. Plus we back our custom built gaming PCs with a lifetime support.
Choosing the Right Parts
Motherboard
Consider factors such as form factor, chipset, socket type, memory slots, and expansion slots
Make sure the motherboard is compatible with the other components you plan to use
The Origin PC configurators can do this for you. You never have to worry about incompatible parts when you use our PC builder.
Processor
Choose a processor to match the needs of your intended use case
Consider factors such as cores, clock speed, cache size, and TDP
At Origin PC, we only offer high end computer processors from Intel and AMD to ensure great performance.
Graphics Card
Choose a graphics card to suit your needs, such as gaming, video editing, or rendering
Consider factors such as memory, core clock speed, and power requirements
Naturally, video cards are high on the list for gamers that want the best 4k to 8k graphics
RAM
Choose the right type of RAM for your motherboard and processor
Consider factors such as capacity, clock speed, and latency
Origin PC machines come standard with the best of the best. We're talking about CORSAIR Performance PC Memory designed for multitaskers, gamers, and compulsive tab openers.
Storage
Choose an appropriate storage solution, such as an SSD (Solid State Drive), NVMe (Non-Volatile Memory express) or HDD (Hard Disk Drive)
Consider factors such as capacity, speed, and form factor
Our configurator allows you to build the ultimate Gaming PC with the latest next generation Solid State Drives for the ultimate performance
Case & Power Supply
Choose a case to suit your needs
Consider factors such as size, airflow, and cooling options
Ever Origin PC is designed to maximize airflow and cooling while also providing you a variety of sizes and design options
Choose a power supply to ensure your components have enough power
Much like a high performance hyper car, a high performance hyper computer requires a lot of fuel in the form of electricity.
Our PC Builder will help you configure the ultimate Gaming PC with the right type of Power Supply for your needs.
Conclusion
Building a PC can be a rewarding experience…especially if you have the time and experience to do it right.
It can also be costly to build a PC on your own:
Errors in the build process can deem components useless and void warranties
The amount of time to research each component, acquire every compatible component, and then assembling it all together can be daunting
If anything goes wrong, you're responsible
Component vendors can blame each other for technical problems.
Get all the benefits of a custom build exactly the way you want it, without the endless hours, hassle, worries, and expense of doing it yourself.
At Origin PC, you'll get the custom configuration you want knowing the Gaming PC will work the way you want and all backed by our lifetime support.
Shop our selection of custom built Gaming PCs and Gaming Laptops today.