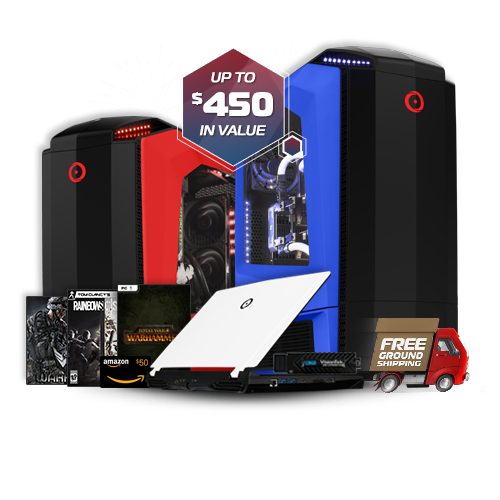 July Celebrations Continue with Our Latest Promotion
July 8, 2016 | By Anthony
The Independence Day festivities are officially over, but we're still celebrating July here at ORIGIN PC with another great promotion we're appropriately calling "Life, Liberty, and the Pursuit of High-Performance." Just like with our previous promotions, we're offering some great extra perks when you purchase one of our select gaming computers including desktops and laptops. Here's what you'll get:
A free Visiontek 128GB USB Pocket SSD

Free US ground shipping

A digital copy of Rainbow Six: Siege with select Intel Core i7 products
In-game credit for Warface ($20 value) and World of Tanks ($25 value) with select Intel Core i7 products
A digital copy of Total War: Warhammer with select AMD products

$100 in-game credit for Trion World Titles

A free $50 Amazon gift card on select products
Total War: Warhammer is a turn-based strategy game that fuses the gameplay of the Total War series with factions from the Warhammer series. Players command the armies of one of four initially playable factions: the Vampire Counts, Greenskins, Dwarfs, and the Empire in a fantasy setting featuring characters from the Warhammer universe. The game received positive reviews and is already one of the fastest selling Total War games, with half a million copies sold in its first few days.
Please note that this promotion is not valid on the CHRONOS VR, BATTLEBOX, or EON17-X RTS. The Total War code is only valid on qualifying AMD 390/390X GPU and/or the AMD FX CPU while the free $50 Amazon gift card is only valid on the EON15-X and EON17-X Gaming Laptops.
If you would like additional information on ORIGIN PC's line of gaming computers or to order one of workstations, call 1-877-674-4460 to speak with a sales representative.  We offer 24/7 customer support and worldwide shipping options.