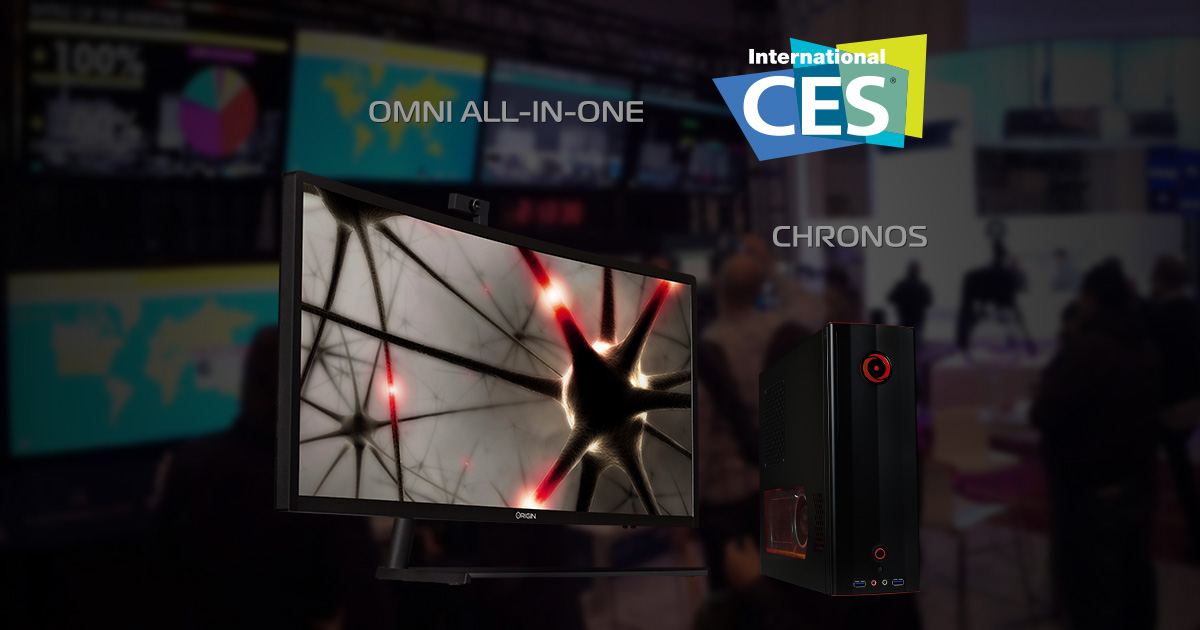 Introducing the ORIGIN PC CHRONOS and OMNI
January 6, 2016 | By Anthony
Have you been attending this year's Consumer Electronics Show (CES)?  Each year, manufacturers showcase their latest products and new technologies designed to revolutionize the industry, from smartphones to household appliances and custom computers.  ORIGIN PC is making an appearance this year and yesterday we announced the debut of the new ORIGIN OMNI all-in-one gaming desktop and the CHRONOS small form factor (SFF) chassis.
The CHRONOS is the smallest SFF ever offered by ORIGIN PC, measuring a mere 11.75 in height and four inches in width.  Despite its small size, it can easily accommodate a high-performance GPU, like NVIDIA's top of the line GeForce GTX Titan Z.  It also comes with an Intel i7 5960X processor and can support up to four solid state drives and even a 3.5" storage drive.  On top of the small size, the CHRONOS can fit comfortably in a variety of settings thanks to its placement flexibility.  Arrange it in any vertical or horizontal orientation or even upside down without worrying about sacrificing performance or risking damage.
The OMNI all-in-one features a stunningly crisp 34-inch display with 3440×1440 QHD resolution.  It features a wide array of support including a 12GB NVIDIA GeForce GTX Titan X GPU, up to 32GB of DDR4 RAM, all Mini ITX platforms, and Intel's latest i7 5960X processor.  Like the CHRONOS, the OMNI comes with ORIGIN FROSTBYTE sealed liquid cooling.  Buyers can also add a USB webcam for crystal clear video chats and a clear window back cover.
The CHRONOS and OMNI will be available next month and during the first quarter of this year, respectively.
For additional information on the ORIGIN PC OMNI and CHRONOS, visit www.originpc.com.  We sell laptops and workstations and many accessories or peripherals to enhance your gaming experience.  Call 1-877-674-4460 to order yours today.