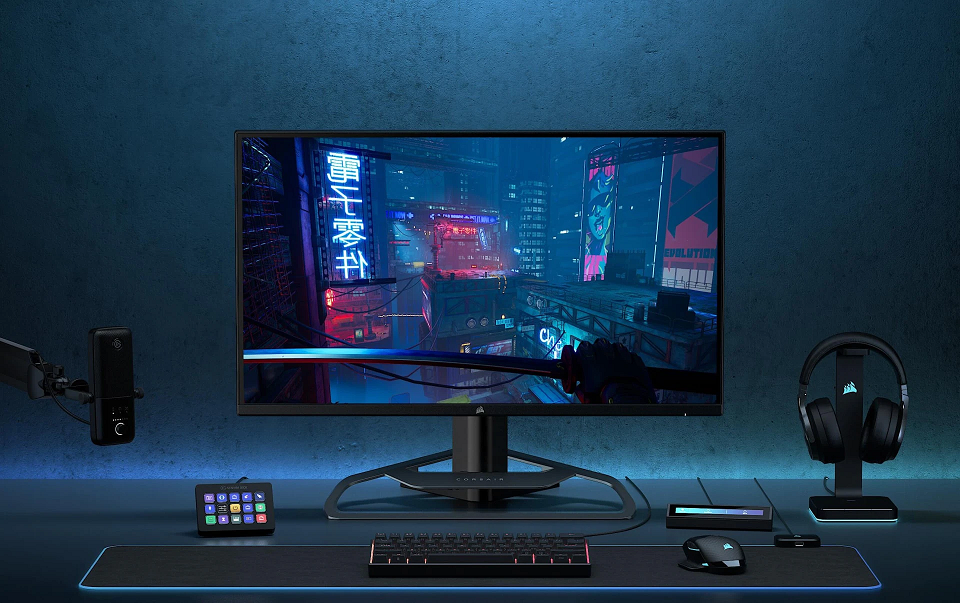 Introducing The CORSAIR XENEON Monitor!
October 1, 2021 | By Anthony
CORSAIR recently announced the availability of their first monitor, the CORSAIR XENEON 32QHD165 monitor! It's currently available on CORSAIR.com, BestBuy.com, and the ORIGIN PC Gearshop!
The CORSAIR XENEON brings games and media to life with a vibrant, ultra-slim 32-inch IPS QHD (2560 x1440) display with a blazing fast refresh rate up to 165Hz and 1ms response time. With support for AMD Freesync Premium, you can experience tear-free gameplay. Connect your favorite devices using USB 3.0 or add an optional multi-mount to add a webcam like the Elgato Facecam or extra lighting. The monitor can also be controlled using CORSAIR iCUE software when you connect it via USB-C!
CORSAIR and ORIGIN PC teamed up for a CORSAIR Live stream hosted by Trisha Hershberger revealing the XENEON monitor. During the stream Trisha, George Makris from the CORSAIR team, Paul's Hardware, and Michael Anderson from AMD had a lengthy conversation going over the features and specs of the XENEON monitor.
The ORIGIN PC team also hosted a gaming session during CORSAIR featuring live gameplay on the XENEON with Tribes of Midgard gameplay with iCUE. The ORIGIN PC team was joined by special guests Stefan Horvath from Norsefell, BloodyFaster, Robeytech, and Trisha Hershberger!
The XENEON monitor makes a perfect pair with an ORIGIN PC desktop or laptop. Get up to a 165Hz refresh rate at a QHD resolution, perfect for modern games. Professionals can take note that the XENEON supports 100% Adobe RGB, making it a solid choice for visual editing or more.
If you would like to learn more about the XENEON monitor visit CORSAIR's website or the ORIGIN PC Gearshop.