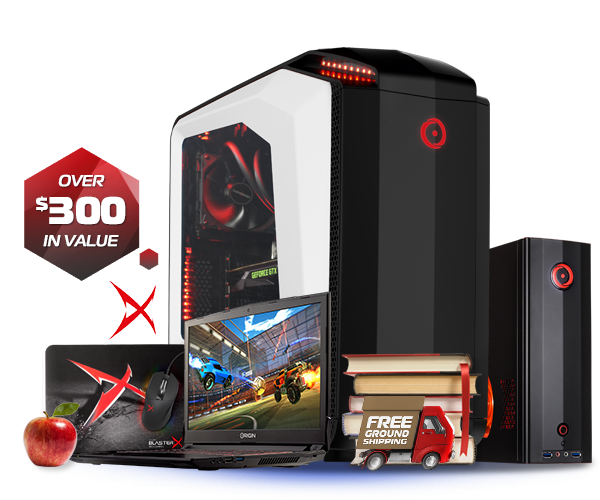 Head Back to School with Awesome Gear
August 21, 2017 | By Anthony
Numerous students are embarking upon another school semester in pursuit of a higher education. From future doctors to the next innovative game developer, we are huge supporters of students! We know that between textbooks, tuition, and all of the other back to school expenses, you need to watch your budget. To help you get the gear for back to school, we have a great promotion going on.
Purchase any desktop or select laptops and you'll receive:
FREE Sound BlasterX® Siege M04 Mouse
FREE Sound BlasterX® AlphaPad Mouse Pad
or
FREE $50 Amazon Gift Card
Besides those choices, you'll also receive additional perks:
FREE Professional GPU Overclocking
FREE US Ground Shipping
FREE Digital Steam Key for Shroud of the Avatar
FREE $100 Trion Worlds In-Game Credit
FREE Digital Copy of Rocket League (with NVIDIA GeForce GTX 1050 Ti or 1060)
FREE $50 Gigantic In-Game Credit
FREE Intel Streamers Media Bundle (with Intel Core i5 or i7)
FREE Digital Copy of Wolfenstein II: The New Colossus and Prey (with AMD Radeon RX Vega 64)
There are other perks to enjoy if you purchase the ultra-portable EVO15-S or EON15-S 10 Series, such as an Intel Streamers Media Bundle and $50 worth of Gamer Sensei credit. The Streamers Bundle includes over $300 worth of FREE software including Counter-Strike: Global Offensive and the upcoming combat flight simulator Dreadnought.
Please be aware that there are certain rules and restrictions that apply, which you can read more about on the August Promo page. If you would like more information on one of the ORIGIN PC pro computers, a gaming PC with Intel Core i9 processors, or to order your own customized PC, call 1-877-674-4460 to speak with a sales representative. We offer 24/7 customer support and worldwide shipping options.