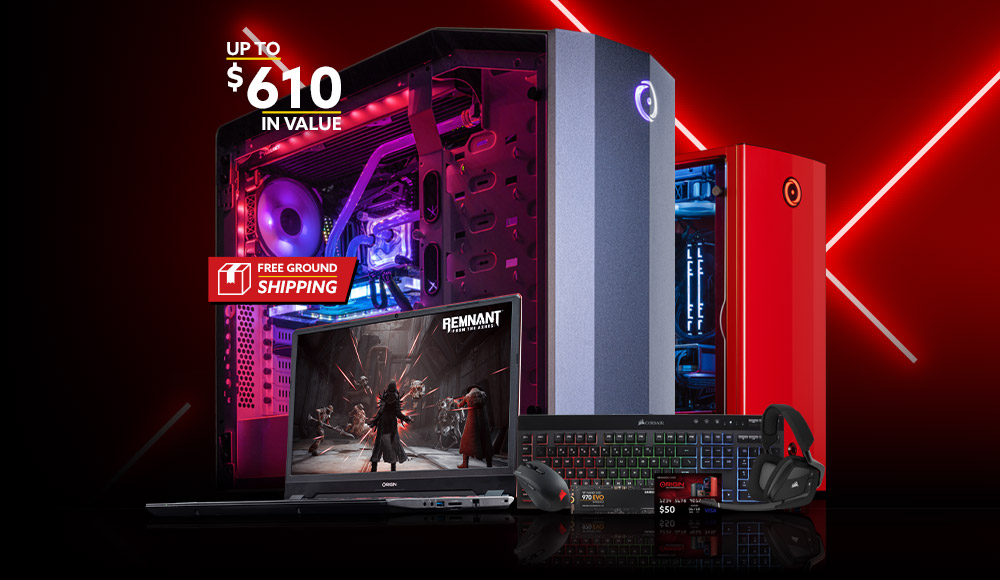 Black Friday Deals Are Live
November 27, 2019 | By Anthony
Who says you have to wait until the end of the week to take advantage of Black Friday deals? We're kicking things off early with our Black Friday and Cyber Monday deals. Best of all, you won't have to deal with the crowds as we'll ship for free right to your door.
For a limited time purchase select ORIGIN PC desktops and laptops and you can choose two of the following if you spend under $3,199 or three if you spend over $3,199:
Discount on select RAM kits
FREE 250GB 970 EVO Plus NVMe M.2 SSD
FREE CORSAIR Void PRO RGB Wireless Headset
FREE CORSAIR K55 RGB Gaming Keyboard and CORSAIR Harpoon RGB Gaming Mouse
FREE $50 ORIGIN PC Visa Gift Card
In addition to the above, you'll also receive:
FREE US Ground Shipping
FREE RGB Interior Lighting (A $30 Value on CHRONOS or NEURON desktops)
Digital Copy of Remnant: From the Ashes (A $40 Value)
Digital Copy of My Friend Pedro (A $20 Value)
$500 Education Discount (with TITAN RTX GPU)
Don't forget you can also purchase one of our RTS (ready to ship) systems like the all-white Special Edition NEURON RTS, which ships in as little as one business day.
Please be aware some rules and restrictions apply, which you can read more about on the Black Friday Promo page. If you would like more information on ORIGIN PC products such as the best gaming laptop or the best gaming desktop, call 1-877-674-4460 to speak with a sales representative. We offer 24/7 customer support and worldwide shipping options. Stay up to date with the latest news and giveaways by checking us out and following us on Facebook and Twitter.