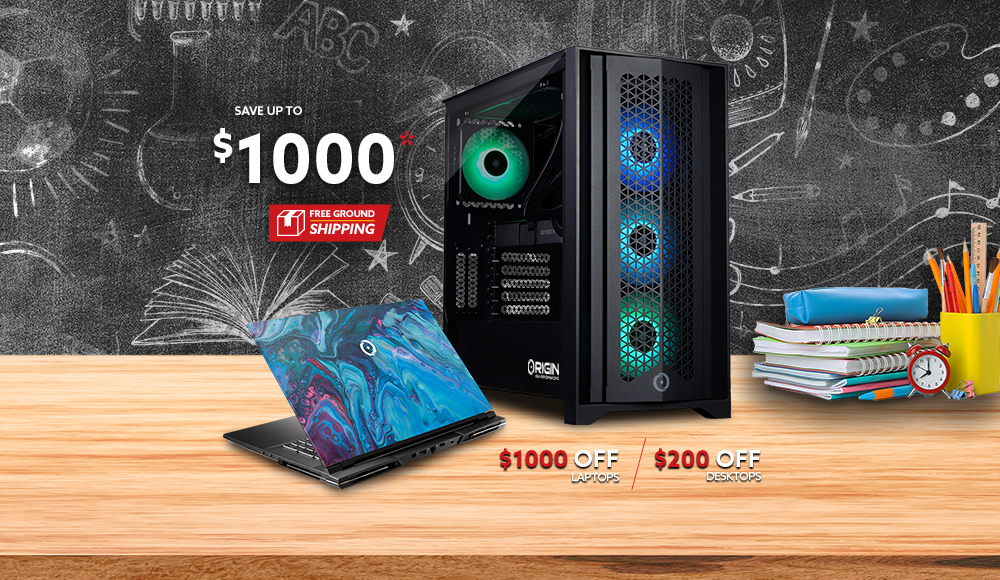 Back To School Savings on ORIGIN PC Desktops and Laptops
July 28, 2023 | By Anthony
Set yourself up for success and head back to school with a high-performance ORIGIN PC. For a limited time only, save on custom desktops and laptops, details below. 
Choose from a variety of laptops from ultra-portable to fully optimized for performance.  
Back-To-School laptop promotion: 
– $100 off EON 40-Series Laptops 
– $450 off EVO15-S and EVO16-S 
– $500 off VOYAGER + Free USB100 Hub + Free standard HD UV printing 
– $700 off EVO14-S 
– $850 off EVO17-S 
– $1000 off EON17-X* 30-Series 
 – Free Shipping 
For the latest technology, check out ORIGIN PC's new EON17-X. Featuring 40 series performance, it is our most powerful laptop ever designed. Featuring premier hardware like an Intel Core i9-13900HX and NVIDIA GeForce RTX 4090 graphics card, it serves as the pinnacle of gaming performance you can take anywhere. Add on an HD UV Print or custom laser etching to throw in a unique, personal charm. Portable at only 7.25 pounds light and 0.98 inches thin, take desktop-like performance with you anywhere. 
For complete immersion, customize and experience the performance of an ORIGIN PC gaming desktop.   
Back-To-School desktop promotion: 
– Save $200 on custom desktops  
– Bonus Games 
– Free Shipping 
Choose from ORIGIN PC's lineup of desktops to suit your needs. A small form factor CHRONOS brings the power of a full-sized desktop in a compact, stylish design. High-performance and low profile, the CHRONOS offers the best of both worlds with superb ventilation and its small profile. Customize one with up to an NVIDIA GeForce RTX 4080 graphics card and an Intel Core i9-13900KS or AMD Ryzen 9 7950 X3D processor.  
Every ORIGIN PC is also backed by a world-class 24/7 support team. Incredible systems deserve reliable support that is readily available. Check out ORIGIN PC's full roster of powerful desktops and laptops at originpc.com!