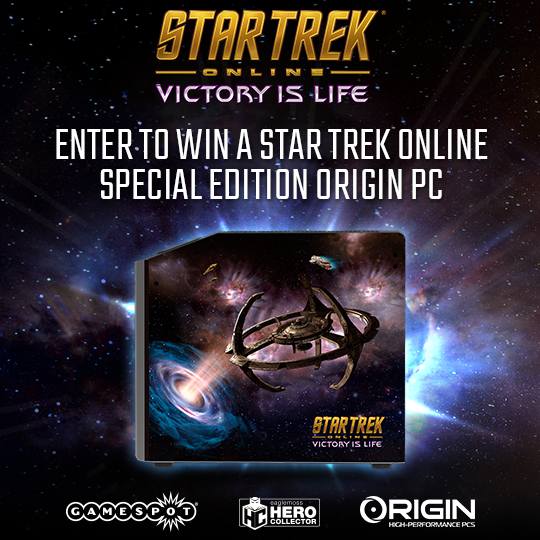 Take on the Borg with Our Star Trek Online Giveaway
July 9, 2018 | By Anthony
If you're a Trekkie, you've probably played—or know someone who has played—Star Trek Online. The free massively multiplayer online role-playing game is still going strong since its debut nearly ten years ago. The MMORPG recently announced its fourth major expansion titled Victory Is Life which will serve as something of an homage to the classic 1993-1999 Deep Space Nine series. In fact, players will be able to interact with twelve of the original cast members during their adventure.
To celebrate the launch of Victory Is Life, we've teamed up with publisher Eaglemoss and GameSpot to give away an exclusive ORIGIN Millennium Gaming Desktop featuring original artwork from the game! The grand prize winner will also receive a poster signed by several of the original Deep Space Nine cast members plus a Gamma Vanguard Pack for use with the PC version of Star Trek Online.
If you'd rather not enter the giveaway, we'll also hook you up with the Gamma Vanguard Starter Pack with the purchase of any one our gaming desktops or gaming laptops. You'll also receive the awesome Tier 6 Archon Class Assault Cruiser ready to take you to new star systems. Visit the Star Trek Online page to learn more or the Victory Is Life page to enter the giveaway.
If you would like more information on the best custom laptop or desktop, call 1-877-674-4460 to speak with a sales representative. We offer 24/7 customer support and worldwide shipping options. Stay up to date with the latest news by checking us out and following us on Facebook and Twitter.