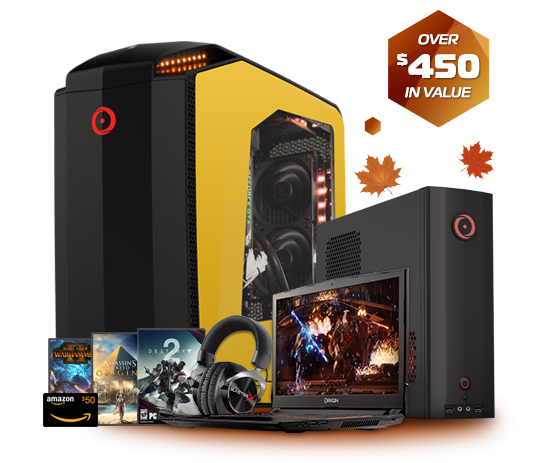 Missed Cyber Monday? Check out Our November Promo
November 29, 2017 | By Anthony
Did you miss out on our Black Friday/Cyber Monday promotion? No worries! If you're planning on buying a new gaming PC for the holidays or replacing your aging custom rig, we've got the hardware plus extra perks so you'll be all set to try a new gaming title on it in stunning 4K. For a limited time, purchase select desktops or select gaming laptops and we'll throw in either a $50 Amazon gift card or a free Creative Sound BlasterX H5 Special Edition Headset! Plus, you'll still enjoy a number of extra perks:
FREE US Ground Shipping
A Digital Copy of Destiny 2 (with Battlebox Ultimate with NVIDIA GeForce GTX 1080 Ti or EON laptop with NVIDIA GeForce GTX 1080)
FREE Digital Copy of Assassin's Creed Origins and Total War: Warhammer II (with Intel Core i7 7700K on EON17-SLX)
FREE Champions Pack for Quake Champions (with Ryzen 5 or 7, or AMD Radeon RX 500 Series)
FREE Digital Copy of Wolfenstein II: The New Colossus and Prey (with AMD Radeon RX Vega 64)
FREE $50 Gigantic In-Game Credit
FREE Digital Steam Key for Shroud of the Avatar
FREE $100 Trion Worlds In-Game Credit
FREE $50 Gamer Sensei Credit (with Intel Core i5 or i7)
Interested in the powerful NEURON Custom Gaming PC or the EON15-S Gaming Laptop? We have extra perks on those too, just visit the November Pro Promo page to find out more!
Please be aware there are certain rules and restrictions that apply, which you can read more about on the promotion page. If you would like more information on a gaming PC for the holidays or one of our custom laptops to boost your productivity in 2018, call 1-877-674-4460 to speak with a sales representative. We offer 24/7 customer support and worldwide shipping options.