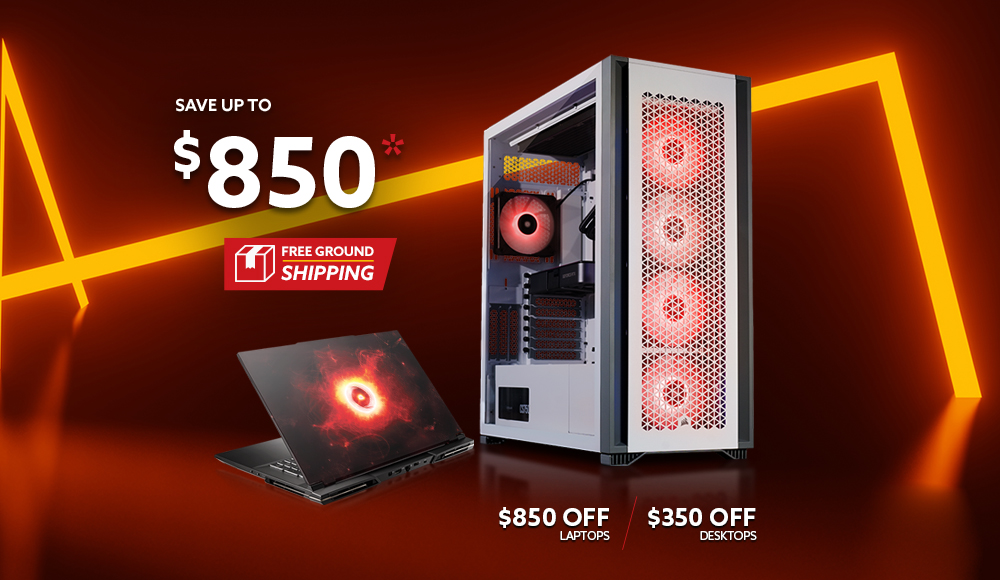 Exclusive September Specials are available now
September 15, 2023 | By Anthony
ORIGIN PC's September Promotion is live – save big on high-performance gaming laptops and desktops. For this month only, you can enjoy limited-time savings on a custom ORIGIN PC desktop, EON 40-Series laptop, or EVO17-S gaming laptop.  
Our flagship GENESIS is an excellent choice for peak 4K gaming performance. Customize one with the latest, strongest hardware like an Intel Core i9-13900KS or AMD Ryzen 9 7950X3D processor or NVIDIA GeForce RTX 4090 GPU. A beautiful and powerful liquid-cooled gaming PC offers buttery smooth frame rates with the temperature control needed to ensure hardware continues running efficiently. HydroX liquid cooling also produces less noise, creating less distractions and a more immersive gaming experience.  
If liquid cooling is not a priority, the NEURON can be configured to offer similar performance with premier hardware and an incredible US-based support team that is available 24/7. Build a PC that is not only clean and organized, but brutally powerful and more than capable of tackling the latest AAA games. Choose from a variety of high-airflow case designs such as the CORSAIR 4000D, 5000D, or 7000D Airflow which all leave plenty of room for future upgrades as well. 
Check out the various savings for desktops during the month of September: 
$350 Off

 

Bonus Games

 

Free US Ground Shipping

 
On the Laptop side, the EVO17-S as well as EON 40-Series Laptops are included in our September promotion.  
The EVO17-S, while thin-and-light, offers an exceptional gaming experience on the go. Convenience doesn't always have to come at the cost of gaming performance; at only 5.07 lbs light and 0.78 inches thin, technological advancements enable breath-taking gaming speeds to go anywhere. 
To access the latest in graphics performance, choose from a variety of form-factors with EON-Series laptops. EON laptops powered by NVIDIA GeForce RTX 40 Series GPUs are $200 off this month. Customize a powerful EON17-X with up to an RTX 4090 and reach a new level of gaming frame rates, ray tracing, and immaculate picture detail.  
September Laptop Promotion: 
EVO17-S: 
40-Series Laptops: 
$200 Off

 

Free US Ground Shipping

 
Check out originpc.com to see the latest news, systems, and more!