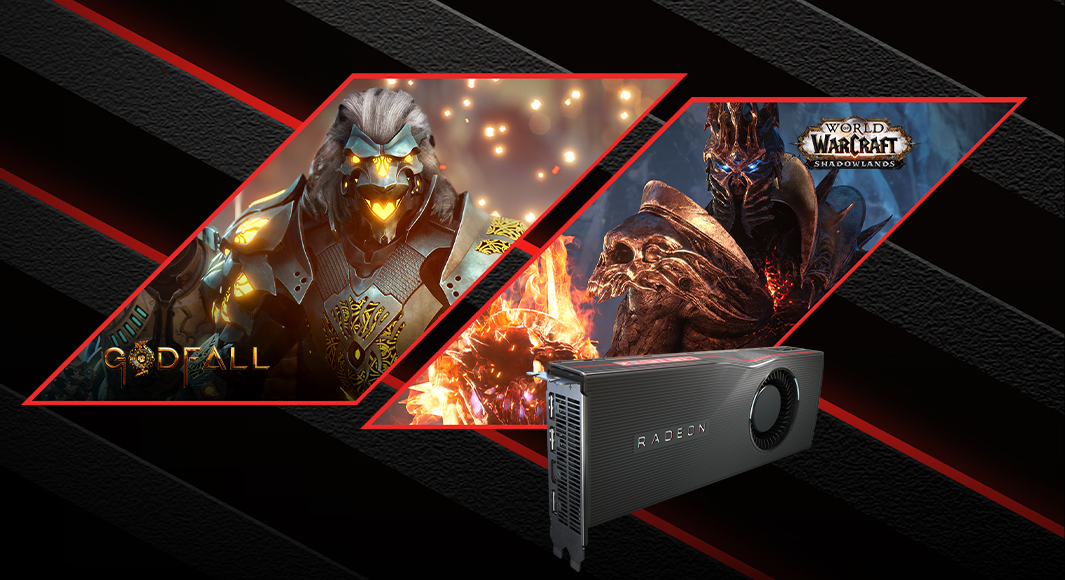 Raise The Game with a New AMD Radeon RX Game Bundle!
July 20, 2020 | By Luis
We're excited to team up with AMD to give you two digital games with your ORIGIN PC gaming desktop powered by an AMD Radeon RX 5700 XT graphics card for a limited time. With this two-game bundle, you'll be able to push your PC with the latest AMD graphics tech and play all-new experiences on your ORIGIN PC desktop!
One of the games in the bundle is Godfall. Originally announced as one of the first true next-gen games, Godfall is an action role-playing game that's a third person "looter-slasher." It can be played solo, or with 2 other friends in PVE coop play. Slated to launch later this year, you'll get the game at launch when you get a Radeon RX 5700 XT GPU with your ORIGIN PC desktop.
Rounding out the bundle is World of Warcraft: Shadowlands. The latest expansion to Blizzard's legendary MMO, Shadowlands invites players to a new realm outside Azeroth where ancient forces await. Expected to launch later this year, you'll get World of Warcraft: Shadowlands when it launches with your Radeon-powered ORIGIN PC.
You can learn more about this Radeon bundle at our landing page, and customize your own Radeon-powered ORIGIN PC desktop at ORIGINPC.com!
If you would like more information on a gaming PC or other products such as the best gaming laptop or best gaming desktop, call 1-877-674-4460 to speak with a sales representative. We offer 24/7 customer support and worldwide shipping options. Stay up to date with the latest news by checking us out and following us on Facebook and Twitter.